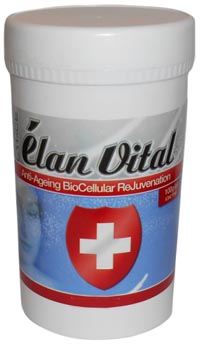 Ethos Elan Vital -The Purest and Most Effective L-Carnosine Supplement
Ignotine Anti-Aging
Ignotine is a major tool against aging and degenerative disease studies have shown. It is found in all cells, but found in higher quantities in the heart, brain, kidneys and muscles. Ignotine is a natural product found in our food, longer living animals where found to have more of it there cells. As our bodies or pet's age it decreases leading to the primary factor of the aging process. When introduced into the bodies cells it is shown to rejuvenate cells working as an anti-aging agent from within the cell Structure.
Actions of Ignotine
-Ignotine inhibits the activity of MAO B (monoamine oxidase B) which is an enzyme involved in breaking down some brain messengers(such as dopamine and serotonin)
-Ignotine enhances memory function of the brain cells and stops the over stimulation of certain receptors which in some situations can lead to strokes.
-Ignotine enhances various aspects of the immunity and protects cells from damage from variety of toxins produced by oxygen.
-Ignotine protected cellular DNA better than any other antioxidant under the stress of toxic levels of oxygen.
General properties of Ignotine shown by scientific studies
-Protection of skin and fights wrinkles
-Wound Healing
-Brain Protection
-Improves Calcium Response
-Cellular DNA Protection
-Lowers Blood Pressure
-Improves immune system
-Converts body fat into energy
-Protects and restores body after alcohol and drug abuse
What is Ignotine?
Ignotine is fermented in large vats using friendly bacteria, a lot like probiotics. It is harvested, dried, processed and refined. Ethos Natural Health Ignotine is 99.9% pure and the very purest on the planet. Not all Ignotines are manufactured to our highest quality and standards.
How much Ignotine should I or your pet take as a health supplement for optimum results?
The best way to administer Ignotine to the body is in small amounts throughout the day, either mixed with water or fruit juice little and often with the last intake being before you go to bed for sound nights sleep 1-3 grams a day is recommended depending on age and health problems, those with more serious conditions 5-7 grams a day.
Customer Testimonials
Elaine - Germany
My vision has improved 100% since using anti-ageing powder by Ethos Heaven with bright eyes drops as recommend. Very good.
Imogen - UK
I take anti-aging daily before my meals, over the last year my skin has definitely improved noticeably and my body feels healthier. As weird as it sounds I noticed that my hangovers were not as bad as before, then when I investigated I learnt that the Ignotine in the powder helps the body recover including from alcohol! So I can now enjoy myself a little longer with a few more red wines.
Pete - Macclesfield, UK
I feel that my mental clarity is better since I've been taking this product as well as my concentration and my focus. In general it's helped with my work life and just being able to juggle a lot of different things without getting stressed and confused.
Lidia - Utah, USA
I have had suffered with arthritis for a number of years now and been to the doctors many times. I have tried various forms of pain relieve that often give short term pain relief but the pain always comes back. The pain is in my left knee and in my hands which makes it difficult sometimes to get on with life. Some days are worse than others and I can barely leave the house. Since nothing was working I starting looking on the internet for something that would help me and I discovered that L-canonise can help with pain, repairing the body and building muscle tissue. I ordered some and decided to start which what it stated as a large portion of 6 grams a day. I normally took about 2 grams before every meal. 8 months later and I've reduced my dose to just 3 grams a day. The pain I was in before has reduced so much that I felt I could reduce my dosage. My hands have improved the most and I now only have pain in certain situations such as really cold weather. My leg still gives me pain sometimes but it has definitely reduced and I haven't had a day where I have been stuck in all day in so long and I will be continuing to use this product for a long time.
Ursula - Norway
My age spots, wrinkles and skin in general have improved from using the L-Carnosine Supplement.
Hanah - Sweden
L-carnosine supplement is a great general pick me up! I've been using it for over a year now and I'm more alert, more energetic and more focused.
Arzu - France
I've had uneven blood pressure for some time and it changes very easily. If I am stressed it can raise abnormally quickly and I have never been able to fully control it. Most of the medication I have tried tends to stop working after a while and my blood pressure spikes again. I heard about L-carnosine and how it can help lower blood pressure so after some research I decided to try it. I'm happy to say that since taking it my blood pressure has regulated itself and I'm very pleased with the results, as is my doctor!
Adal - Germany
Very good product for me. My body responds more to things, isn't as tired and I can exercise more. Last year I was diagnosis of breast cancer - I had radio therapy and took Marine phytoplankton alongside elan vital. I got the all clear last week.
Dave - UK
With 3 kids and a busy full time job I get tired very quickly and couldn't keep up with my kids. When I used to come home from work and they wanted to play I couldn't, I was too exhausted and normally had a headache or ache of some sort. It used to break my heart seeing how disappointed they were so I started trying various things to give me more energy. After a few failed products I tried Ethos Elan Vital and within a few weeks I found that I had more energy, I had enough energy for work and then to come home and play with my kids. It's made a massive difference to our lives and relationship for the better.
Emmalene - Ireland
Love the Elan Vital powder, gives me energy ethos health for me.
Sam - Canada
Me and my mum have been using the Elan Vital together for 6 months to try and get better skin. My mums has improve more as here wrinkles have got better and she's looks a bit younger, I think because I don't have to many signs of ageing yet that's why I haven't seen many results but hopefully it will prevent me from getting any.
Viv - USA
I have really seen a difference in the quality of my skin over the last year over using Elan Vitals. I've had a few people compliment me recently too which has been lovely!