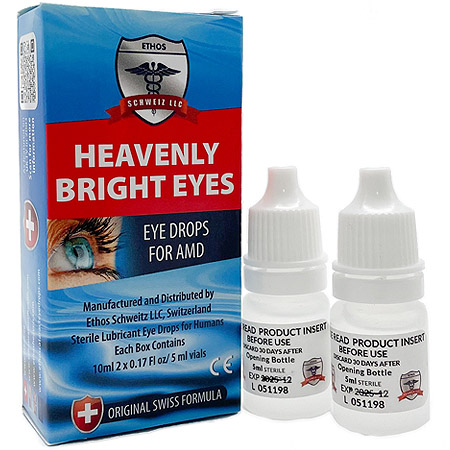 Ethos Bright Eyes Eye Drops for AMD
Ethos Bright Eyes Age-related Macular Degeneration (AMD) Drops withN-Acetyl-Carnosine (NAC) has proven to be a modern formulation that can repair and rejuvenate cell damage in eyes.
Your health is important and that certainly applies to the health of your eyes as well. You should eat a healthy diet of course and you can supplement that with drops containing Zeaxanthin and Lutein in combination with NAC. Research has shown that this formula helps to restore the macular pigment density of eyes thereby protecting the macular from any damage. Once damage occurs, it is generally irreversible.
A course of Ethos AMD Drops Bright Eyes will insert the NAC directly into the eye. It then does its work on the cells and repairs any damage to the macular.
Bright Eyes Ingredients
N-Acetyl-Carnosine (NAC), an antioxidant - 1.0%
The lubricant, Glycerin - 1.0%
Another lubricant, Hydroxypropyl Methylcellulose Sodium - 0.15%
Sterile Water (ophthalmic grade isotonic solution, pH 6.3 to 6.5)
Boric Acid, Citric Acid and Potassium Bicarbonate
Purified Benzyl Alcohol, a preservative

Bright Eyes Eye Drops can safely be used with all other prescribed medication. You should leave 30 minutes between applying different drops.
Recommended Usage
Each box contains 2 x 5ml bottles and that should last you a week for both eyes. The recommended full course of treatment should last six weeks and 80% of users report impressive results within that time frame.
Those with severe symptoms may need to use the drops for longer.
You should apply Bright Eyes up to 7 times per day to any affected eye
You just need a single drop each time
Lie down and put your head back to apply the drops
Alternatively, ask someone else to put the drops in for you and this certainly helps avoid any wastage

The actual process involves:
Pulling down the lower eyelid
Squeezing the bottle until a drop comes out
Aiming for the center of the eyeball and you will feel the drop on its surface
Then pressing the tear duct for 2 minutes to stop the drop 'escaping.'

As the population worldwide ages into their 40's 50s and 60s and above AMD is becoming one of the leading causes of blindness with an estimated 27 to 32 million patients afflicted with this eye condition.
BUY NOW