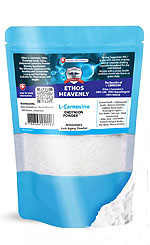 Ethos Endymion Powder (100% Pure L-Carnosine)
L-Carnosine is a naturally occurring molecule existing in the body's immune system, muscle and brain tissues. It was first identified in Russia in 1900. As the body ages, the amount of carnosine diminishes, leaving it more prone to illness and viral infections.
It can be replaced by supplements and Ethos Endymion powder is the purest form of L-Carnosine in today's marketplace. Ethos L-Carnosine will improve major senses such eyesight, hearing, and smell. Endymion powder taken alongside Ethos Bright Eyes eye drops for cataracts; glaucoma and AMD will increase the rate of recovery for disease or after surgery.



Further studies have indicated the many health benefits of Ethos Endymion L-Carnosine
Boosts the immune system against viruses
Skin protection reducing wrinkles and loss of elasticity
Lowers your blood pressure
Helps asthma suffers
Improves your heartbeat and heart muscles
Increases your body's antioxidant qualities
Immune function improves
Body fat converts to energy
Athletic and daily exercise performance increase
Improves brain function and memory
Increases sexual potency
Cataracts
Diabetes
Cardiovascular diseases such as heart attacks and strokes
Neurological and psychiatric disorders such as epilepsy and schizophrenia
Alzheimer's disease
Parkinson's disease
Autistic spectrum disorders
Speeds up the operation and wound healing process
L-Carnosine's Fight against Premature Aging, Viruses & Illnesses
Regular use of this natural Ethos health supplement, Endymion not only protects but also extends the functional life of the body's key building blocks, namely cells, body proteins, DNA, and lipids. A simple blood test can measure aging, identifying the extent of wear and tear.
Both smoking and obesity cause inflammation and cause the shortening of the telomere. Taking the supplement both improves your health and lifestyle it also stops telomere shortening. Indeed, it can start the process of lengthening them as well. The end result is that the effects of aging are slowed down you are protected more against viruses.
This super nutrient has changed the thinking about aging. It is the brand leader for anyone hoping to arrest the effects of viruses, aging and to avoid the common degenerative diseases.
Direction for use:
The best results in using Ethos Endymion Powder are found by consuming 1 gram a day in two different amounts of half a gram, morning, and evening. Ideally, you take it on an empty stomach 40 minutes before eating. Alternatively, you can add a gram to water and sip a little a few times during the day.
Those with more severe illnesses 6-7 grammes a day is suggested alongside a healthy diet and light exercise.
N.B. half a gram is approximately a level teaspoon.
Ethos Natural Health Endymion L-Carnosine is 100% Safe & 100% Hypoallergenic
BUY NOW