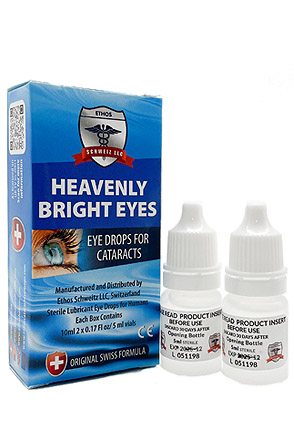 Ethos Bright Eyes NAC Cataract Eye Drops
Ethos Natural Health Bright Eyes NAC Eye Drops have few equals. They continue to be the leading product on the market since 2000. They work by shrinking the cataracts to improve vision which would otherwise require surgery. Even simple surgery is expensive and invasive, remember.
As waiting lists grow for operations due to the pandemic our eye drops are a safe alternative to protect your vision and a better quality of life for you or a relative. Bright Eyes Ethos cataract drops contains the super antioxidant N-Acetyl-Carnosine as well as lubricants and vitamins. It was a brand leader when it was launched and that remains the case. The results from its coverage on UK primetime Richard & Judy Show speak for themselves.
Some people are complacent when it comes to the health of their eyes. That is a mistake. Vision problems are more likely at middle age and beyond, but not exclusively so. In the USA, supposedly the most advanced society in the world, over 20 million of its citizens suffer from cataracts which can ultimately lead to blindness. Just think about the surgery costs involved in solving that problem. Bright Eyes is an excellent alternative!
Your Questions and Answers on Cataracts
Do I have cataracts?
If your vision becomes blurred and colours don't seem to be as distinct, you could be starting to develop cataracts. Maybe you start to get double vision and focusing becomes more difficult? If you are driving at night, do headlights seem to be stronger than they used to be? Perhaps you find difficulty reading small print and details on your computer screen? Each of these examples can be a symptom of cataracts.
Are there risks with cataract surgery?
We highly recommend cataract surgery, while surgery for cataracts is commonplace, any procedure comes with a risk, and surgery can be expensive. If you have cataracts in both eyes, it is common practice to undergo two separate operations in case something goes wrong. The consequence of something going wrong with both eyes treated at the same time is blindness so even professionals recognize a slight risk.
What are the causes of cataracts?
Cataracts occur when the lens within the eye becomes cloudy. The cause is the proteins that produce the lens malfunction. Ultimately, cataracts can lead to blindness. It is a particular problem for those who suffer from diabetes because of sugar being infused into the lens.
How can I treat my cataracts?
Ethos Schweitz LLC Eye Drops have developed an easy to use and effective answer to the onset of cataracts in the comfort of your own home. Follow the instructions which come with the eye drops as well as leading a healthy lifestyle by exercising regularly, eating healthily, quitting smoking and protecting your eyes from harmful UV rays. Taking this advice may help you have healthier eyes and a more pleasant life.
When will my eyes improve using cataract drops?
You will notice your eyesight improves within days. But you need to follow our guidance whilst maintaining a diet high in antioxidants.
Each box comes with 2 x 5ml bottles. If you are treating both eyes, apply one drop into each eye each hour in the day, effectively 6- 7 drops each day. One box will last the whole week for both eyes. A full course of treatment that we recommend will last 6 - 8 weeks. That is because of the time it is likely to take to dissolve/shrink a cataract. It may take longer if the cataract is mature but similarly less if the cataract is less severe.
More Information on Ethos Eye Drops
100% hypoallergenic and 100% Sterile
Our eye drops have no animal ingredients and can be used by vegetarians and vegans
Bright Eyes is completely safe for both humans and animals
Safe & suitable for those suffering from diabetes and is compatible with all drugs that sufferers may also be taking to combat their condition
Bright Eyes drops may be safely used by people wearing both hard and soft contact lens
Using Ethos Bright Eyes NAC Eye Drops will address a whole range of eye conditions:
Cataracts
Intraocular Pressure Associated with Glaucoma
Age-Related Macular Degeneration (AMD)
Vitreous Opacities and Lesions
Computer Vision Syndrome
Contact Lens Disorders
Ocular Inflammation
Dry Eye Syndrome
Corneal Disorders
Chronic Eye Strain
Retinal disease
Blurred vision
Presbyopia
Floaters

With the help of Ethos Natural Health, If you have any concerns about your vision please do not hesitate in contacting us. Our customer service and advice on any eye problems is free of charge and a pleasure to help you.
Specification Sheet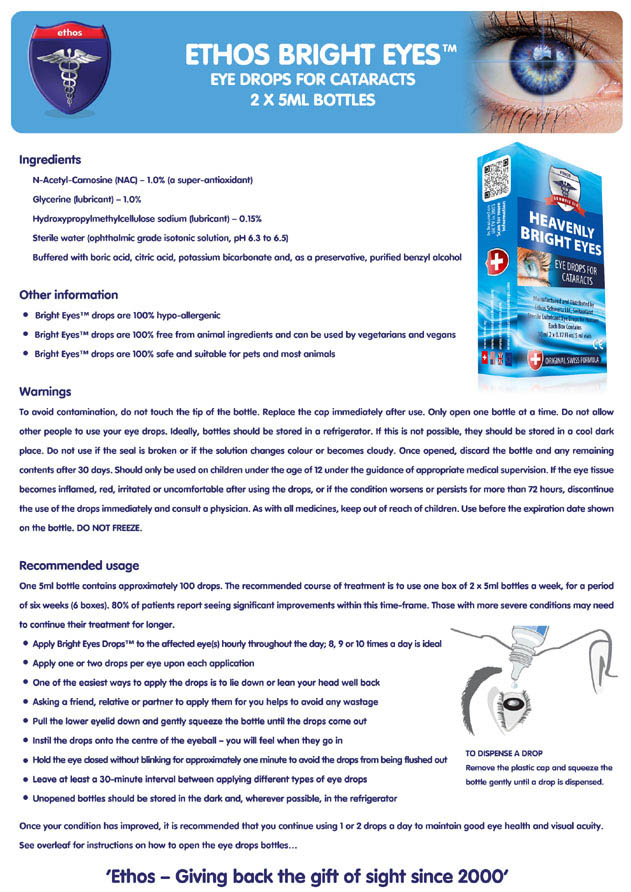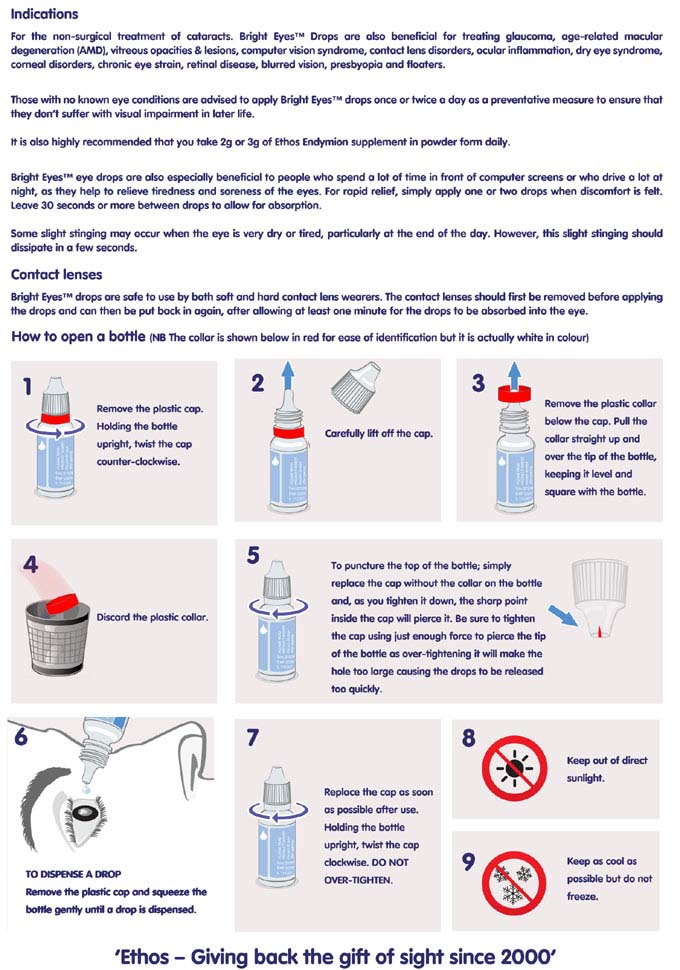 BUY NOW
Customer Testimonials
Joanna Edwards, Penzance
When I was about 50, I became more concerned about my eyesight which had always been good. I had my first eye test for years and the optician not only prescribed glasses but said there were the first signs of a cataract in my right eye. I was horrified and immediately did some research on the Internet to find out more about cataracts and their implications. Although I knew that I could ultimately have surgery, I did not want to do that unless absolutely necessary. Fortunately, I found Ethos Bright Eyes and decided to give them a try. I'm not saying they are a total solution but when I went back to my optician because I was interested in an update, she said that my right eye was fine. Make up your own mind.
Leonardo Rivera, Torino
I have always been wearing glasses since I was young so my eye man has become a good friend. When I was beginning to find it difficulter to see my television from some metres away I asked him for his idea. He examined me and said that it was starting to be having cataracts. I was not wanting an operation and looked for an easier answer. I am thinking I am finding that with Bright Eyes which I have been using for four weeks. The television is more clear.
Will Allen. Kentucky USA
I have always had somewhat of a problem with dry eye, but it never became more evident until I injured my right eye. After having a foreign object removed and with that scratching my cornea, my eye took a while to heal. A few weeks after the corneal abrasion healed I woke up one morning to find that the pain experienced with a corneal abrasion was back.

I went back to my eye Dr. to find out that if the eye is injured and after healing, dry eye can cause the new cells that have replaced the injured ones to be torn away due to lack of moisture thus causing corneal abrasion all over again. This is especially true upon waking in the morning. He recommended to start using Ethos Bright eye and I have never had another problem since. I use it now for both my eyes and it its great!
Dr. Murphy, Ireland
As a retired doctor of optometry, I am very pleased with the response I got from using Ethos Bright eyes eye drops.
Matthew G. Canada
Over my 20 years treating dry eye patients with natural remedies, I've seen new dry eye products introduced all the time that are basically subtle variation of what we've had in the past. Ethos Bright eyes drops is the first product I've seen that has been dramatically different for my patients with the most severe dry eye problems. It is fantastic to finally offer a new and effective alternative eye drops..
Leigh - Anne, Stockport UK
6 weeks of use and the beginning of a cataract has completely gone in one eye, eye is ongoing.
Anastasia, Poland
I am originally from Poland and I move here 2 years ago. I have problems with cataracts for maybe 4 years but in Poland I cannot find good eye drops. Every time they make my eyes itch and go sore. But when I come to England I find the bright eyes cataract drops and after 3 months my eyes are so much beter. They never irritate my eyes.
Clarissa, London UK
I noticed, about 18 months ago, that my eye sight started to get quite blurry which became a large annoyance to me. Thinking that my eyes were deteriorating due to old age I booked an eye test, I assumed that I simply needed glasses and that would solve the issue. However, when I went for the eye test it was determined that I had developed quite a late stage cataract on my left eye and a less progressed but never the less visible cataract on my right.

I was given a prescription for a set of eye drops to last a month and another appointment was booked to check on my progress. During the month I experienced very dry eyes and occasional itchiness that was very uncomfortable. My sight had not improved and was starting to affect me in a number of ways; I had to stop driving unless someone was with me, I couldn't read well and in general I was having problems with all aspects of my sight.

On return to the opticians I was told that the eye drops had not had any effect on the cataracts meaning that they were doing more damage than good. The ophthalmologist suggested a different brand of eye drops but I was sceptical.

That week I bumped into a friend that had experienced the same issues about a yea previously and she suggested bright eyes cataract eye drops. I gave them a chance and ordered a month course. I applied the drops up to 7 times a day every few hours and was thrilled to find that after I finished the month course and returned for another eye appointment I was informed that the treatment was working and that I should carry on with it. My only regret is that I didn't come across this brand earlier as I could have saved myself a lot of hassle.
Daisy Amelia Brewer, East Sussex UK
I was diagnosed with cataracts at a routine eye test approximately 12 years ago, it may have been longer ago. At this time I happened to see Richard and Judy recommending Ethos Eye Drops, so I made contact and used them regularly around six/seven times a a day and during the night. I found them to be very soothing.

A few weeks ago I had further eye trouble, very sore and bloodshot eyes, my doctor diagnosed severe blepharitis, but to my joy he could see no trace of cataracts. I was given wipes and anti-biotic eye drops. I followed his instructions for 3 months, also using a mixture of tea tree cream and honey on my eyelids, sticky but very effective, this followed advice from fellow sufferers. I was told blepharitis is a chronic disease of the eyes with no cure, however so far I am clear of it. I continue to use ethos drops and the honey and tea tree mixture, this can be easily disguised by using the magical eyeshadow supplied for blepharitis sufferers.

I have recommended Ethos Bright Eyes eye drops to many people, I will never be without them.
Carmen - New Zealand
I have been purchasing the Bright Eye Cataract Drops on behalf of my mother. She was told by her optometrist that Cataracts are forming and she is reluctant to have surgery to correct her eyesight. She has been using the Bright Eye Cataract Drops and reports that the preparation seems to be working, stating that her eyesight is clearer and sharper. She also said that she used to see a "halo" around lights at night, so she is not able to drive in the evening. The Bright Eyes product seems to have removed that blurred effect, which she described as being like a "halo". Overall she is very happy with the results.
H. Long from China - November 2014
About one year ago, I've bought some of Ethos Bright Eyes Drops for my mother, because since 2002 she had been suffering from glaucoma that followed also with cataract and syndrome of high intraocular pressure, due to that fact she suffered her first operation in 2002. Even so her eyes still got worse in the following years, some times after waking up she felt there was something like curtain stayed in her eye and made her vision blurred, she even lost her vision of right eye in 2012.

My mother told me, after using your eyes drops, about 5-6 times everyday, her left eye is sharper and clearer than before, and she felt also comfortable every time after using drops. Although the syndrome of acute high intraocular pressure occurring again in june 2014,her doctor must perform another operation for her left eye. But my mother said that that eyes drops worked very well during the whole healing process and provided her a lot of comfort. Up to now her vision of left eye is raising gradually from 0.1 to 0.3 and we hope it would be even better. So we appreciate it very much and we hope that your excellent products could help more people in the future.
C DAVIS - UK
Prior to using BRIGHT EYES DROPS FOR CATARACTS, I saw hazy translucent-like white spots going across my line of vision and these spots seemed to get bigger with time. I finally went to see an ophthalmologist and he tried to convince me to have these cataracts surgically removed. That would have cost my insurance company $5000 per eye. I did not like the idea of invasive surgery, so I did a thorough search of the internet and found your company:

Upon receiving my order, I immediately began applying 2 drops of BRIGHT EYES in each eye 2-3 times every day. Each time I would apply these drops, I would keep my eyes closed for a couple minutes afterwards. It was about the 4th week, I believe, that the cataracts gradually started to disappear from my line of vision. Even after finishing up with the drops, the cataracts continued to fade and it was by the end of the 2nd month that I noticed there was no trace of cataracts.

It was just in the last few weeks of this month (May 2014), I started to notice a cataract in its early stages in each eye. So that was when I decided to order more of your eye drops.

Your Eye Drops for Cataracts were quite effective. I'm quite pleased with your product.
Francois P, South Africa
I've ordered a few boxes of the Bright Eyes Glaucoma drops and I've been using the drops for a month now. I will only have an IOP test in a few weeks tme to see if there is any improvement there. I also suffered from central serous retinopathy in the past and, as a result, suffer from a very small grey blind spot (scars) in each eye. Today, all of a sudden whilst working on my computer I realised that the spots in both eyes are smaller and not so 'blind' anymore! There is a definite improvement and I'm very curious to know if you have received any similar feedback regarding CSR scar tissue improving with the use of these drops?
Janet, USA
I have used your drops for the past 6 months for cataracts. I am 55 years old. For two weeks I used 6 drops daily in each eye and then reduced to one drop daily in the eve. Went for my follow up eye exam and discovered my vision improved by a whole diopter and my peripheral vision improved 100% since my last exam 6 months ago. I can only contribute this to your fantastic product. I am continuing to use them daily to maintain these results.

If you feel that is not necessary please let me know. I value your opinions and have recommended your product to all my friends with the same condition. Thank you so much for developing this alternative to cataract surgery. I really did not want to have that cataracts surgery at my so called young age. Have a wonderful day.
Mrs J. Mewse - Nottingham UK
I was forced to take a look at other alternative treatments for my cataract because they are not considering an operation because my other eye is a 'lazy eye'. I read on line about the good reports about Ethos Cataract eye drops so decided to give it a go. I also have a friend who had a cataract operation and this went wrong. My orders have been sent immediately and with great consideration. They are packed very well. I feel I am improving although not tested to see if this was so but certainly not worse, so I will go the full mile. All people I have dealt with whilst ordering have been kind and understanding and dealt with me and my order very efficiently. I had a follow up phone call too to see if I was happy with my drops a few weeks ago which was good. They do not sting and I feel my eyes are healthier by using them ,so am hoping the good progress continues.