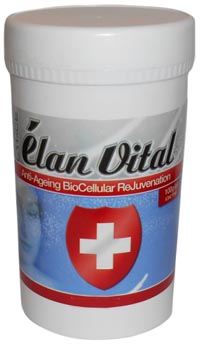 Ethos Elan Vital -The Purest and Most Effective Anti-Ageing Supplement
Studies have shown that Ignotine which is found in all cells and especially in the immune system, brain, heart, kidney, and muscles, is a major weapon against aging and degenerative diseases. It occurs naturally in food, and particularly in animals with a long expectancy.
As we age, and the same thing applies to pets, the Ignotine in our bodies decreases. To that extent, it plays a major role in the aging process. If it is taken as a supplement, it can rejuvenate cells, thereby acting as an anti-aging agent.
General properties of Elan Vital shown by scientific studies
-Ignotine inhibits the activity of MAO B (monoamine oxidase B) which is an enzyme involved in breaking down some brain messengers(such as dopamine and serotonin)
-Ignotine enhances memory function of the brain cells and stops the over stimulation of certain receptors which in some situations can lead to strokes.
-Ignotine enhances various aspects of the immunity and protects cells from damage from variety of toxins produced by oxygen.
-Ignotine protected cellular DNA better than any other antioxidant under the stress of toxic levels of oxygen.
General properties of Ignotine shown by scientific studies
Boosts your immune system against viruses
Protects the skin while fighting wrinkles
Improves the healing of wounds
Protects the brain
Improves response of calcium
Protects cellular DNA
Reduces blood pressure
Enhances the immune system
Helps to convert body fat into energy
Helps protect and restore the body following alcohol or drug abuse
Ignotine Actions
Ignotine reduces the effectiveness of MAO B (Monoamine Oxidase B), an enzyme that breaks down messengers to the brain (typically Dopamine and Serotonin).
Ignotine improves memory function in the brain cells, preventing the over stimulation of certain receptors which sometimes lead to strokes.
Ignotine improves immunity and acts as protection of cells from the damage caused by toxins produced by oxygen.
Ignotine is the best defender of cellular DNA than all other antioxidants which are under the stress of toxic levels of oxygen.
How much Ignotine should you as a health supplement for optimum results?
Ignotine Elan Vital is best administered to your body in small amounts over the whole day, mixed with water or fruit juice. The final dose of the day should be just before you retire to bed. 1-3 grams per day is recommended, depending upon your age and whether you have health problems. If you have a serios medical condition, 5-7 grams per day is advisable.
Ethos Elan vital is 100% safe and 100% hypoallergenic - it is naturally occurring in many foods and in the body itself.
BUY NOW