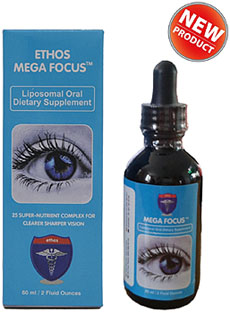 Mega Focus Optimal Super Nutrition Eye Health Sublingual Drops
Ethos Schweitz LLC has a long-established reputation for manufacturing products that can address a range of issues relating to your eyes and your vision. You should never take your eyesight for granted because there are numerous conditions that can affect your vision temporarily or sometimes even permanently.
These conditions include cataracts, age-related macular degeneration (AMD) and glaucoma among others. While they are more prevalent as you get older, they can occur at any age. Each of these are conditions that Ethos aims to counter with its products, including the vegan-friendly Ethos Mega Focus.
Ethos Mega Focus adds to the range of eye products that our company is offering to clients, new and old. These mouth drops contain 24 super nutrients which will get into your bloodstream quicker than any pill or capsule. Use this supplement under your tongue and its impact is very quick indeed. There are no negative side effects associated with Mega Focus.
In brief, here are some of the benefits that Mega Focus will provide for you:
Improvement of vision for those with AMD, Glaucoma, Cataracts and Computer Vision Syndrome.
Less glare giving you a clearer view.
Colours will brighten up and night vision improves as well.
An overall boost to your health including reducing the fatigue you may have felt in your eyes in the past.
It should help prevent cataracts even though it is not a direct cataract treatment, but it can be used in association with other Ethos products.
You should find your memory and overall mental ability gets a boost.

The main two ingredients within Ethos Mega Focus that maintain or restore good health in your eyes are Zeaxanthin and Lutein. Z & L act as an antioxidant preventing cell damage when it does not occur naturally in your body as you age. Ethos Natural Health highly recommends having a healthy diet with fruit and vegetables or through another supplement that will be beneficial for vision and general well-being.
Additional vitamins and minerals in Mega Focus will be working for you as well. It is not just your eyes that will benefit from Ethos Mega Focus because studies show that it will help your overall health as well.
The Mega Focus drops are recognised as an excellent way to ensure that its ingredients get to work quickly, far quicker than tablets and capsules. It is worth remembering that so look at Mega Focus as the answer to any problems you have with your eyes and vision.
Mega Focus Ingredients:
Astaxanthin (3mg)
Vitamin C. A, E
Lutein and Zeaxanthin
Zinc and Copper
Methylated form of Folate
Recommended dosage:
Each bottle provides approx 30 servings.

N.B. If using 1ml twice a day, the bottle of Ethos Mega Focus will last for 30 days and 60 days if only using once a day. However, you can increase the dose to 2ml once or twice a day if needed for serious eye conditions.
Mega Focus is more beneficial when taken at least 15 minutes before or at least 15 minutes after eating/drinking and it's advisable to wait at least 10 minutes before drinking or eating after taking it.
As it is such a powerful formula, if you do not like the taste, you can mix it with a little water or natural juice. Holding the liquid under your tongue for a couple of minutes first before swallowing is very important, as this is where you get the best sublingual absorption directly into the bloodstream. By swilling it around your cheeks as well, you will receive the second-best absorption into the bloodstream.
BUY NOW
Linda, Den Haag
I have never being happy with things close to my eyes. Mega Focus is being the best way I know for looking after my eyes without having eye drops. Thanking Ethos for Mega Focus which I was buying a few weeks ago and will be using regular.
Janice, Kidderminster
Bright lights have always been something that I have found it difficult for my eyes to adjust to. It had always been a problem for me when driving at night. I often thought that approaching traffic was using full beam headlights. Since I have been using Ethos Mega Focus, there in no doubt that things have improved and I am far more confident on the road at night now.
Helmut, Munchen
I am thanking Ethos for Mega Focus. Over years I have been worrying about my eyes and now I am in the 50 years, I do not want my sight to get poorer. Mega Focus is helping me and I an being a regular customer from now.
Anouk, Lyon
Working from home was fun at first but somehow things began to get worse. Even though I was not travelling each morning and returning home each evening, I found myself more tired even though I had not left home. It seemed that my eyes were more tired as well. Perhaps it was because my home computer was not as good as my office one? Whatever the reason, I did some research on eye tiredness and realised that I could do something to help my general eye health. The product I bought was Ethos Mega Focus, and I have to say things have improved. I am hoping to get back to the office soon, but I think I will still use Mega Focus regularly because of the things it has done for me.
Fraser, Dundee
My family has a history of poor vision. Dad wore glasses full time from an early age and mum's eyesight is little better. It was the reason why I thought I would try to help myself, as well as getting regular eye tests. The internet has helped me learn more about eyes, and the more I read, the more I began to understand how many diseases can affect eyes. I have tried a few supplements but am not keen on eye drops somehow so when I learnt about the option of using an oral treatment as well, I was keen to try. Mega Focus is something I found and have been using. I am very happy about everything to do with it- price, good delivery service and easy to use. Thanks, Ethos.
John, Blackpool
I realised over time that my vision was getting a little blurred and went for an eye test. I was told that I might be seeing the first signs of cataracts developing which would ultimately need surgery. I don't like the thought of surgery, and never have so I resolved to look for alternatives. I found Ethos and read about the products that they have been offering for years. I became a customer a while ago and am delighted that they introduced Mega Focus that involves a couple of seconds spraying. Its my solution to keeping my eyes healthy, with the thought of surgery well at the back of the queue.