Ethos Combo Packs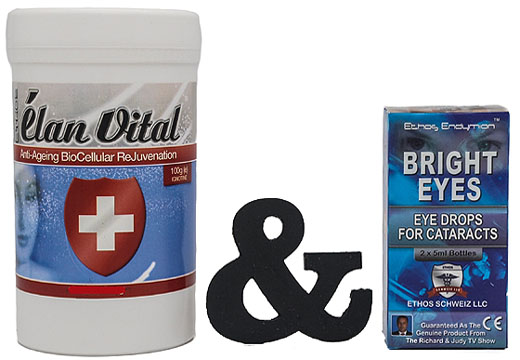 Ethos Bright Eyes NAC Eye Drops 10ml Box & 100g Tub of Ethos Elan Vital
We are offering real value in a combo pack that includes the leading eyedrop product on the market, Ethos Bright Eyes NAC Eye Drops together with Elan Vital, an outstanding anti-aging supplement which works in conjunction with the eyes drops to improve your health and vision
Ethos Bright Eyes has been shown to be very effective in combating a range of eye problems, particularly cataracts. The ingredients include lubricants and vitamins combining with the anti-oxidant N-Acetyl Carnosine.
Ethos Elan restores is an anti-aging supplement which also boosts your immune system and slows down the aging process for the eyes, skin, brain and bones and body
This combo discount pack prevents, protects, and maintains your vision with the best eye care available with 1 box - 2 x 5ml of Ethos Bright Eyes NAC eyedrops and 100g of Elan Vital L-Carnosine health supplement.
FREE WORLDWIDE DELIVERY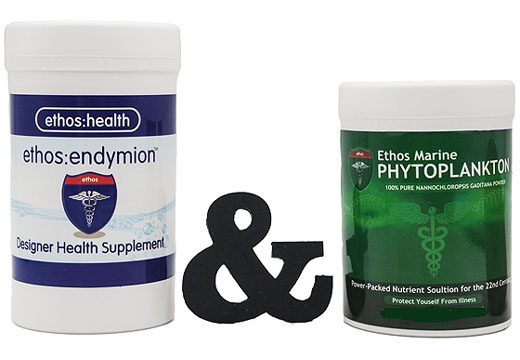 Ethos Pure L-Carnosine 100% Endymion Powder 100g Tub & Marine Phytoplankton 90 Capsules
Why not buy our discount combo pack to boost your health and address any illnesses and improve your general wellbeing? The 100g tub of pure L-Carnosine will address including vision, premature aging, viruses and underlying health conditions.
You will also receive 100% pure organic marine phytoplankton capsules which has many health benefits to improve your health and immune system to help your fight against the toxins and free radicals that we consume in our daily life style and diet, especially from processed food. Stay as healthy as the day you were born by countering things that can harm you.
This combo pack of Ethos 100% Pure Endymion 100g Bulk discount tub & Marine Phytoplankton 90 friendly capsules will help to protect your body, mind and soul and reverse the aging process.
FREE WORLDWIDE DELIVERY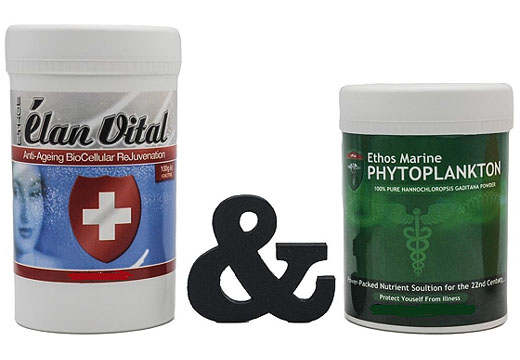 Ethos 100% Pure Elan Vital 100g Tub & 90 Marine Phytoplankton Capsules
This combo pack offers two important Ethos products that can help you stay fit, healthy and disease free.
Ethos Elan is an anti-aging supplement that becomes relevant when your body stops naturally producing the amount of Ignotine you need. That comes with age. Ethos Elan restores your supply of Ignotine to boost your immune system against a range of diseases.
You will also receive 90 Ethos Marine Phytoplankton capsules with 70 nutritional properties including amino acids, essential fats, vitamins and important essential minerals, trace elements, enzymes and co-enzymes, rare antioxidants, phospholipids, electrolytes, and nucleic acids.
Ethos 100% Pure Elan Vital & Marine Phytoplankton 90 capsules in a combination pack will fight all degenerative diseases, boost your immune system, give you more energy, improve your memory, and slow down the aging process. Thereby protecting your mind, body and soul and reversing any existing damage alongside a healthy diet and life style.
FREE WORLDWIDE DELIVERY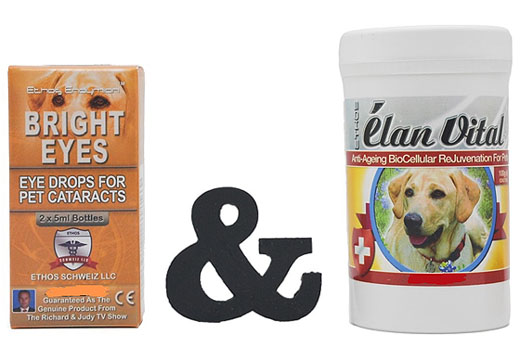 Cataract Eye Drops for Dogs and Pets 1 Box & 100g Ethos L-Carnosine Elan Vital
We have put together this combo pack to help you. This exclusive combination should be used if your dog or pet currently has cataracts or even at the first sign of dullness in your pet's eyes. It is possible this could be the beginnings of cataracts forming which ultimately will badly affect their vision. Likewise, as they age, they can begin to suffer the same things we humans can as we get older. Boosting their levels of L-Carnosine using Ethos Endymion will provide a boost to their overall health.
"Man's Best Friend" is a phrase regularly used about the relationship between man and dog. Your pet dog offers friendship and seeks little in return except food and care. A good balanced diet is important to your dog's health but so is your attention. He or she can't talk so you must be aware of any signs of problems with their overall health of vision.
The combination of these two Ethos products is your thanks to your dog for all they do for you.
FREE WORLDWIDE DELIVERY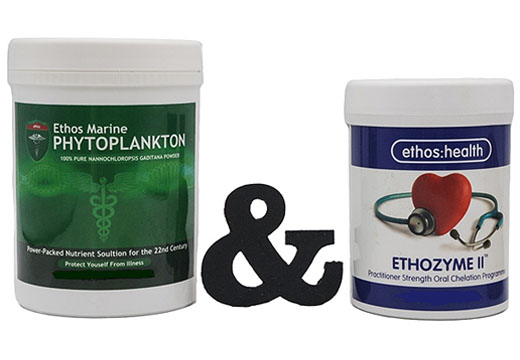 Marine Phytoplankton Powder 150g Tub & 120 Enzyme Serrapetase Capsules
Ethos products are natural and formulated with ingredients that will restore your health but they also provide a barrier to health problems developing in the first place. Prevention is better than cure goes the cliché but it is entirely accurate. Ethos can help you effectively maintain your health with just a small amount of these supplements each day.
Marine Phytoplankton is the bottom of the food chain in oceans. It sustains life. Ethos Natural Health is proud to offer it to you, confident that its many nutritional properties that are essential to good health, will boost you in many ways. Used in combination with another of its health supplements, serrapetase enzyme capsules, you can look forward to immunity from several common ailments that can cause discomfort and more.
A healthy diet and less processed food is always a good idea as well of course.
FREE WORLDWIDE DELIVERY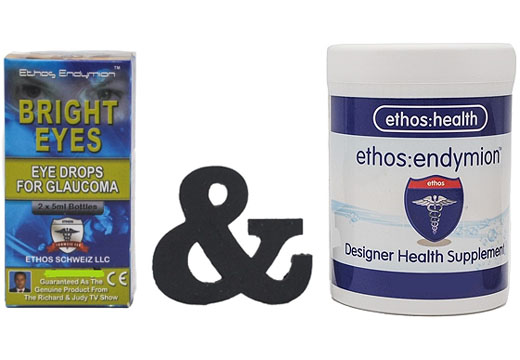 Glaucoma Eye Drops 1 Box & L-Carnosine 60g Tub
You can combat such potential problems with this help of this Ethos combo pack that addresses both the potential issues of your eyesight deteriorating and the increased chance of falling prey to many of the ailments that become an increasing threat with age.
The problem of Glaucoma is more prevalent as you get older. At the same time, your body is unable to naturally produce enough L-Carnosine which helps keep you healthy. You can recover from some ailments but why not stop them occurring in the first place? Similarly, do not take your eyesight for granted because ignoring symptoms can lead to damage that cannot be reversed. Worldwide, Glaucoma is one of the main causes of blindness.
If you allow us at Ethos to help you, both with your eyes and your overall health, you will not regret it.
FREE WORLDWIDE DELIVERY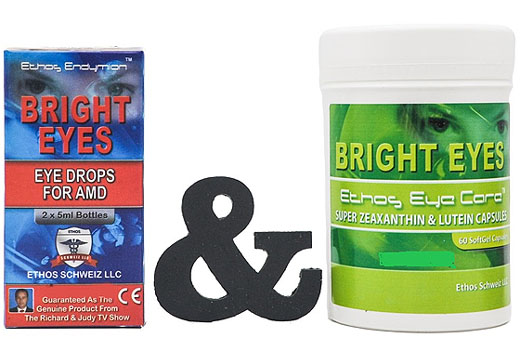 Eye Drops for Age-related Macular Degeneration 1 Box & 60 Zeaxanthin and Lutein Capsules
This combo pack offers products designed to repair damage by rejuvenating cells. In the case of AMD, that is by boosting the density of the macular pigment. Sometimes, if you are too late in realizing the problem, you can be too late in reversing the condition. A few drops in the eyes and an oral capsule each day takes seconds to take and will reduce the risk of eye problems occurring.
It is impossible to imagine life without sight if you have not experienced it. Yes, you can shut your eyes for a few minutes but that is not the same as having darkness permanently, day after day. Your other senses may heighten to compensate but it is not the same. You need to look after your eyes and avoid a range of diseases that can affect your vision. One such disease, Age-related Macular Degeneration (AMD) as the name suggests, is more likely to affect older people and at Ethos, we have products that can help stop its development.
Ethos Best Seller Combo pack for Age-related Macular Degeneration (AMD).
FREE WORLDWIDE DELIVERY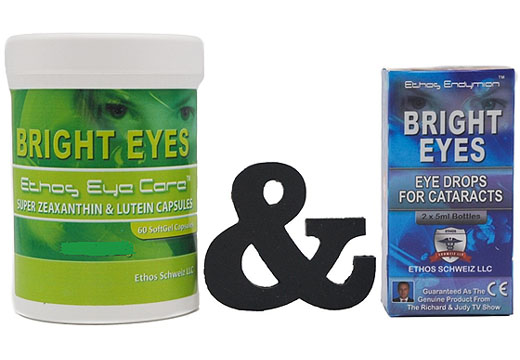 Zeaxanthin and Lutein 60 Capsules & 1 Box Ethos Bright Eyes Drops for Cataracts
We have put together this combo pack of the well-known and successful Ethos Natural Health Bright Eyes NAC Eye Drops with Zeaxanthin Lutein Capsules for the ultimate boost in ensuring the health of your eyes. NAC Eye Drops have been combating cataracts with its unique formulation for two decades now rendering surgery almost obsolete. It is the antioxidant N-Acetyl-Carnosine combined with vitamins and lubricants that does the trick.
We are now offering you the chance to buy a combo pack which also includes Zeaxanthin Lutein Capsules. This product will help to improve your vision just like foods rich in antioxidants and in turn will help your eyes from developing cataracts in the first place and stop any further growth as you get older.
You may still need glasses as you age but that is no problem relative to diseases that can cause you serious problems and Ethos is here to help.
FREE WORLDWIDE DELIVERY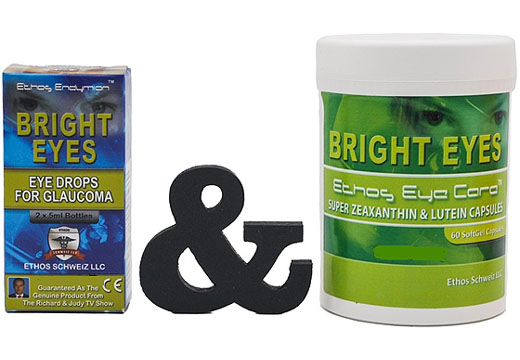 Ethos Glaucoma Eye Drops 1 Box & Zeaxanthin and Lutein 60 Capsules
At Ethos, we have uniquely formulated products that have proved successful over many years in combating vision problems that are more common than you might think.
This combo pack is suitable for anyone who wants to avoid having problems with their eyesight other than the common need to wear glasses. It is the potentially serious conditions such as Glaucoma that Ethos can address.
You may begin to have poor peripheral vision. That could be the beginning of Glaucoma. Our eye drops can stop that happening in the first place while the Zeaxanthin Lutein Capsules that come in the combo pack will give you the nutrients that will combat closed angle, acute glaucoma, chronic glaucoma and angle closure even if it is at the advanced stage therefore improving your vision and quality of life.
FREE WORLDWIDE DELIVERY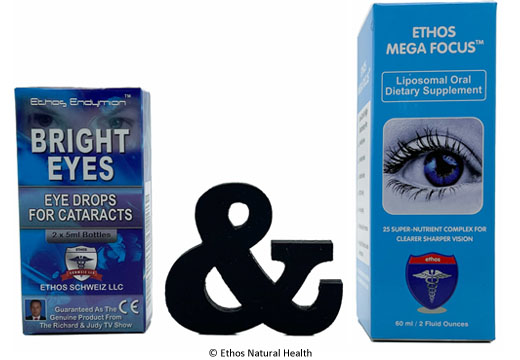 Eye Drops for Cataracts & Ethos Mega Focus
Our commitment to value for money has resulted in our adding to the Combo Packs that we are offering. Ethos Bright Eyes NAC Eye Drops for Cataracts has been a best seller since its introduction. This combo pack has one box 10ml of Cataract Drops with the recently introduced Ethos Mega Focus. Its ability to address a range of eye diseases reinforces the protection and remedial treatment that Ethos has been offering for over 21 years.
Mega Focus comes in drops which you take orally, a couple of drops under your tongue work quickly to get into your bloodstream. Mega Focus has several super nutrients with its two most important ingredients, Zeaxanthin and Lutein, both antioxidants. With regular use of these natural health products for better vision, you can expect clearer eyesight and a boost to your overall eye health. You should no longer feel any fatigue in your eyes, even after a long day so Ethos will be helping in your overall health as well.
FREE WORLDWIDE DELIVERY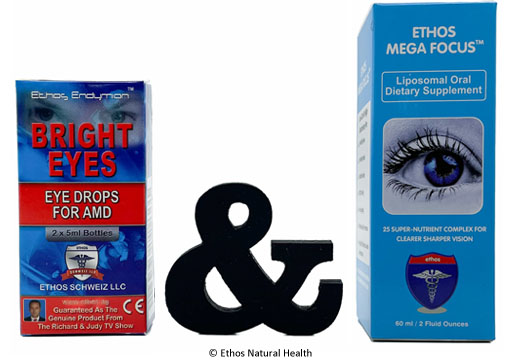 Eye Drops for Macular Degeneration & Eye Liquid Oral Supplement
Age-related Macular Degeneration (AMD) is a worrying condition that you should avoid if possible. Once AMD develops it is difficult to reverse but Bright Eyes AMD has developed a reputation as a great way to address such issues. Ethos is your ally in maintaining the health of your eyes and the combo pack which includes Mega Focus is a great way to make sure you are doing all you can to keep your eyes healthy.
Mega Focus is a new product from Ethos, taken orally, with its formulation including the antioxidants, Zeaxanthin and Lutein, and several important vitamins. It works quickly to provide protection against eye diseases and a cure against any problems that are developing. There are no negative side effects to Mega Focus which you use just a couple of drops a time.
FREE WORLDWIDE DELIVERY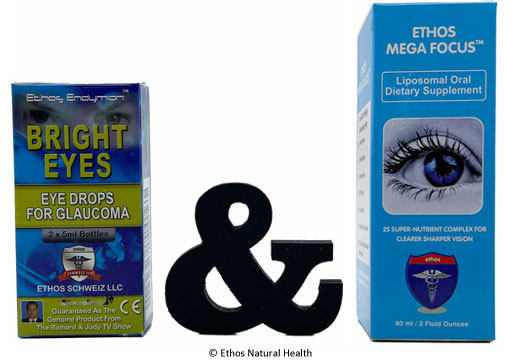 Glaucoma Medication & Sublingual Liposomal Drops
Ethos has successfully marketed a Bright Eyes product to address glaucoma since 1999. Its decision to sell Bright Eyes Eye Drops for Glaucoma in a combo pack 1 x box 10ml with its new product, Mega Focus, is further evidence that Ethos is your reliable ally in fighting and preventing eye diseases. Between the two products you will have enough to ensure clear and bright vision, day, and night.
Mega Focus is applied under your tongue, just a couple of drops per application. It gets into your bloodstream quickly with antioxidants and vitamins working for your eye health and your overall health as well. Zeaxanthin and Lutein are the antioxidants that are recognised as enemies of all the diseases that can affect your vision. It follows that they are your allies along with Ethos. Buy this combo pack to give yourself confidence about your eyes and vision.
FREE WORLDWIDE DELIVERY