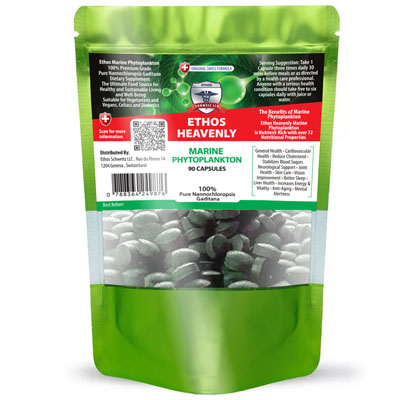 Ethos Marine Phytoplankton Super Nutrition
Ethos Natural Health Marine Phytoplankton - 100% Pure Organic
Ethos Natural Health's Marine Phytoplankton has almost 70 nutritional properties, including amino acids, essential fats, vitamins and important essential minerals, trace elements, enzymes and co-enzymes, rare antioxidants, phospholipids, electrolytes, and nucleic acids.
We are all under constant attack from toxins and free radicals because of the type diet we eat, rich in hydrogenated fat, refined carbohydrates and sugar, salt, artificial preservatives as well, and white flour. We eat too much processed food. Poor diet causes an imbalance in our body which results in inflammation, culminating in many different diseases of varying seriousness.
The vast majority of mankind is born healthy but that doesn't last. Many of us get degenerative diseases in our lifetime and diet plays a large part in that.
What are the health benefits of Marine Phytoplankton?
Your immune system gets a boost from flu, cold and viruses
Combats depression anxiety & insomnia
Speeds up your recovery from surgery, disease and illnesses
Leads to your memory improving
Gives a boost to your energy
Stops migraines from developing and relives them if they have developed
Relieves stress
Provides PH balance in your body
Combats travel sickness
Improves your rate of recovery from alcohol and drug abuse
Vision improvement
Improves skin to combat anti-ageing and wrinkles
Increased energy levels

You should help your body to fight these free radicals and toxins by making it healthy and Ethos is the answer. You should not wait until any symptoms appear, because that can be too late.
What is Ethos Marine Phytoplankton?
Marine Phytoplankton are the lifeblood of our oceans. They are microscopic organisms, single-cell, and they contain more than 400 times as much energy as any other organic living matter. Marine Phytoplankton is today's super food boosting body and brain while creating new cells like serotonin and dopamine.
Forget Omega -3-6-& 9, Marine Phytoplankton is not only better but you will absorb it quicker than any fish oil supplements. It is a result of its working at the deepest level of the cell, seemingly working on a wide range of diseases and imbalances, including chronic illnesses.
Marine Phytoplankton health benefits for depression and anxiety
Most people feel anxious or depressed at some point in their lives. In serious cases, that is a worldwide public health problem. It can cause different forms of disability.
Do you recognise some of these symptoms? If you do please speak to someone or seek professional help.
You feel sad, unhappy, or down without knowing why
You become worried or irritable over even the smallest matter
You feel bored and listless, not bothered about things in general
Your sex drive has disappeared
You suffer from insomnia but also sleep in at times
You have no appetite at times
You can't sit still
You get angry over nothing
Your thought processes are slowing
You struggle to concentrate, and your short-term memory is not what it was
You have little energy
You think too much about the past and question your value
You may feel suicidal
You get too emotional over trivia
You have no explanation for aches and pains, bad skin, and nails

Depression & Anxiety as illnesses still pose a problem for therapists and there remains a debate on the best course of treatment. One theory of the cause revolves around the increased consumption of saturated fat and dietary intake in general.
Marine Phytoplankton has been identified as a nutrient that will enhance your quality of life and lower your chances of catching viruses' premature death from such as heart attacks, strokes, and high blood pressure, in depressed patients. In the last decade, Ethos Marine Phytoplankton has been trialled extensively. Its effectiveness both at treating depression in all ages and having a beneficial effect on mind and body is impressive.
What is the correct intake of Ethos Heaven Marine Phytoplankton?
No current study indicates a definitive daily intake. However, the purity of Ethos Heaven Marine Phytoplankton is definitely an important factor to remember. Sadly, the typical standard diet rarely contributes more than 50-100 mg/day of Marine Phytoplankton. A healthy diet and Ethos Heaven Marine Phytoplankton are the optimum solution for those seeking to live long and disease free.
Recommended Daily Dosage
Take one- or two-level teaspoons (2-4 grams) of powder twice a day in water, juice or a smoothie or two capsules daily 30 minutes before food with a healthy diet.
BUY NOW
Customer Testimonials
Elizabeth, St. Helier, Jersey
A friend mentioned Ethos to me when I was feeling run down. I looked through its products and decided to give Marine Phytoplankton a try. I'm pleased I did and it is now something I take each day. I feel so much better.
Johan, Antwerp
If its good enough for marine life, it is good enough for me. That's what I thought when I was reading about Marine Phytoplankton. I don't usually write reviews but thought I should this time because of how well I am feeling after a weakening disease. I think it has helped my recovery enormously so give it a go if you feel weak and rundown.
Janice, Cork
My son found this online for me. I was needing a boost and I have certainly got that in recent weeks after taking just a little each day. It is now on my regular shopping list.
Luis, Mexico City
I am not able to be thanking you enough Ethos for your Marine Phytoplankton. I am feeling good after starting to take you and would advice anyone that is not feeling strong to try you.
Scott, Liverpool UK
I take this everyday just as a booster, helps my mood and my energy in my busy lifestyle.
Lauren, Stonehaven UK
My family history is scattered with strokes and high blood pressure so when I came across Marine Phytoplankton Super Nutrition I was really interested in it for keeping control of everything and lowers my chances of following in the same steps. I looked on the internet but the ethos heaven was the cheapest brand that I found, especially if you bulk buy it.
Joe Trinswell US
I've been taking Marine Phytoplankton Super Nutrition for about a year now and people always joke about how quick I heal, cuts and bruises disappear after no more than a week whereas my friends can last for weeks, even months. So I know its working!
Ellie
Whenever my body just needs an extra boost I use marine phytoplankton, makes my bod feel stronger and ready for anything.
Amanda, UK
Marine Phytoplankton Super Nutrition is great for my body and also whoever I was talking to for help on the team was really great. Guided me along the whole process and really knew what they were talking about.
Lesley, Florence Italy
I was told to take Marine Phytoplankton Super Nutrition over winter when there is lots of colds and flu about to help your body repair itself quickly and it seems to have worked I took it all through winter and I'm normally ill for weeks at a time, this year I was ill for maximum a week.
Burgen, Germany
I was told to take Marine Phytoplankton Super Nutrition over winter when there is lots of colds and flu about to help your body repair itself quickly and it seems to have worked I took it all through winter and I'm normally ill for weeks at a time, this year I was ill for maximum a week.
Julie Hammond - Liverpool
Ethos Health Marine Phytoplanton is a WONDERFUL product!! If you need a boost in your energy levels, this is it! When I take it ,I feel the results in a very short period of time. A friend of mine had severe cramps in his legs (poor circulation). When I gave him Phytoplanton , his pain stopped almost instantly. Another friend's daughter had a fever and was throwing up.another friend has arthritis. She says that her pain and movement is not as bad since taking Ethos Marine Phytoplanton as well as her stamina increased. I have product a little pricey. But, it is well worth it.
Mick Mcteague - Dublin
Against my better judgement I ordered Marine Phytoplanton from Ethos .I've been taking it now for about five days, and I have to say the differences I feel are subtle, but well worth the cost of the product. So far, the quality of my sleep has improved- I sleep deeply, and I get up a little earlier than I normally have been- and feel great when I get up! My energy is overall improved throughout the day I don't get that rundown feeling. We'll see what else comes after prolonged use! So far, I'm happy!
Lucy Daniells - Utah, USA
We just started taking Marine Phytoplanton and already are seeing some amazing things happening. My eldest daughter, who has all the food allergies, is for the first time having normal bowel movements. My son slept through the night for the first time since I can remember. And as for me well it seems as though my body has decided to get rid of a whole lot of waste and toxic build up because my body has gone into a cleanse mode and I feel wonderful. Have had the best sleep of my life and can't say enough about Marine Phytoplanton. I have been on the phone non-stop to as many people as I know, and so far everyone I have talked to can't wait to get on the product.
Raymond Keith - Dalyan, Turkey
My energy levels have definitely changed- I went through a period of months after a major operation during which I felt exhausted at the end of each day. I did not feel rested after sleep.. I now feel healthy, mentally and physically, and have energy to spare at the end busy working day. One very interesting side effect is that I am now dreaming. I'm not sure what my body was missing but Marine Phytoplanton seems like when I was 30years old.