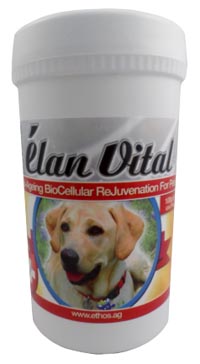 Ethos Elan Vital for Pets
Anti-Aging Wellness Supplement
Prolong your pet's life and help them to fight diseases and illnesses much more efficiently. You and your pet will both age, and as a result, you and your dog or other pet will become more susceptible to illness and debilitating diseases.
Pets have much a shorter life span than humans but that is not to say that you cannot help to boost your pet's life expectancy.
Ethos Natural Heath has a new product called Ethos Elan Vital which will do just that by boosting the immune system and aging cells. Animals bodies like humans diminishes with age, hence the need for supplements.




Below is a list of just some of the advantages of giving Ethos Elan Vital to your pet: -
Anti-Aging supplement
Wound healing
Bone health
Brain protection
Improves your pet's calcium levels
Cellular DNA protection
Lowers blood pressure and blood circulation
Improves your pet's immune system
Converts body fat into energy
Protection and improvement for skin and fur
Affective for good eye wellbeing when taken with Ethos eye drops
Teeth and gum support
Natural Health Supplement for Dogs and Pets for a longer Life
Ethos Ignotine is completely safe if you are giving your pet other medication; it is neither a drug, a vitamin nor mineral. As a natural health supplement, Ethos natural health Elan Vital for pets, both protects and extends your pets quality of life by building cells, proteins, DNA and Lipids.
Our Ethos health supplement for pets Ethos Elan Vital contains 99.9% pure Ignotine. Science has proved that rejuvenates cells so a course of treatment for your pet will give him or her a real boost.
Recommended Usage and Dosage: -
For best results it is recommended the daily intake of Ethos Elan Vital for Pets is one teaspoon a day. We suggest giving half a teaspoon in the mornings and half a teaspoon in the evenings, in a small amount of wet food. Alternatively, one teaspoon can be added to a bowl of water for your pet to drink throughout the day. Unfortunately, with this method there may be some wastage. Simply dissolve it in water; its tasteless, colourless and odourless.
If your dog or pet has a serious health condition or very old - we suggest 6-7 grams a day daily.
Ethos Elan Vital for pets is both 100% safe as well as 100% hypoallergenic.
BUY NOW
Customer Testimonials
James - Scotland
I give my Scottish terrier called Harris a daily dose of Elan Vital to keep him cheerful and healthy. It was recommended by my friend who uses the same thing daily for her dog too.
Kay - USA
One teaspoon a day in bowl of water seems to have helped slow down the process of old age in my dog. She definitely seems to have more energy since using it.
Lucy - Preston UK
My previous dog died of liver disease at age 9. She lived a good life but I was so upset when she passed away and her last few months were so horrible for her. I rescued a new dog 2 years later and because I was scared of the same thing happening I started given my new dog Ethos Elan Vital for pets daily. Not only does it help to keep liver healthy, she also seems to have much more energy and better behaved since taking it.
Peter - Canada
My family cat started to get ill and the vet told us the food he was eating wasn't giving him enough nutrients that he needed so we changed his diet and started giving him Ethos Elan Vital, with a week he had perked up and was on the mend.
William - USA
My little poodle has always been a bit weak. She was the runt of the litter and stayed very small. The vet suggested various multi vitamins and things to give her extra nutrients and vitamins but she was sick every time we gave her a tablet. That's when we found Elan Vital for pets which was a powder so we could put in her food and drink. She took it no problem and we noticed a real difference in her health after just a few weeks of daily use.
Mauren - Finland
Great products, we use the Elan Vital for our cat and dog and they both take it really easy which is a massive bonus. No having to hold them to get a tablet in their mouth makes it less traumatic for everyone.
Tina - USA
My little Bumblebee, a cavalier king Charles, had liver failure but miraculously the vets managed to save her. I wanted to help as much as I could and as I've used Ethos eye drops before I looked at their other products. I found they had the Elan ethos which helps the body repair itself and boost the immune system so that was perfect. My little girl has nearly made a full recovery and is now a little healthy and strong again.
Cory - Guernsey
My German Sheppards arthritis had has a massive improvement after I started giving him Elan Vital by Ethos.ag He was getting so bad that he was struggling to walk but now hes able to run and play again.
Linnea - Sweden
Because of old age my dog was getting tired easily, grouchy and not eating. We tried everything we could think of but eventually knew we had to try some sort of product or medicine. We chose Ethos products because they are natural ingredients and the Elan Vital powder because powder is easier to give to them rather than a tablet. Within a couple of days he perked up and his stiffness seemed to wear off. It's great to see him better.