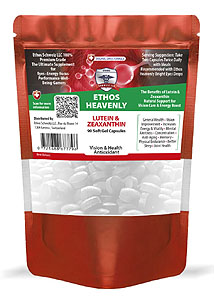 Ethos Zeaxanthin & Lutein - 60 Capsules
Never take your eyesight for granted. Eyesight is precious and arguably the most important of the human senses.
Ethos Health Products have been developed to combat the whole range of eye diseases, examples being Senile Cataracts, Glaucoma and Age-related Macular Degeneration (AMD) in both humans and pets.
Two Carotenoids, Zeaxanthin and Lutein are found in the eye's retina. Scientific research over a significant period of time have demonstrated that you can increase the macular pigment density in your eyes by using these two carotenoids in supplements as a protection against AMD.



The people with the lowest macular pigment density are:
The elderly
Women
Smokers
Those with light iris colours

The main cause of blindness in the developed world is AMD, and the main cause of impairment in general. You can get both Lutein and Zeaxanthin from adjusting your diet and also by taking Ethos AMD supplements on a regular basis. They will prevent the development of AMD and arrest its progress as well.
What is your Macula?
Near the centre of the retina there is a small yellowish area close to the middle of the retina. Its name is the macula, and its function is to help you distinguish fine detail.
What is (AMD) Age Related Macular Degeneration?
If your macular cells begin to deteriorate, so will your central vision. The examples when that is important include when you are driving, reading and writing as well as using the keyboard on your computer or smartphone.
You may be lucky, but some find AMD progressing quickly leading to impaired vision and even blindness in one or both eyes.
Do I have (AMD) Age-Related Macular Degeneration?
If you look at things and they have lost their clear definition, you may have AMD. Try looking at things with a single eye at a time and see whether they look different with each eye.
What Causes (AMD) Age-Related Macular Degeneration?
There are two forms of AMD:
Dry, which amounts to around 85% of the cases. Research has yet to fully understand the cause of dry AMD but if left untreated, it will seriously affect your vision
Wet is more severe and results from ignoring the symptoms of dry AMD and getting no treatment. In the vast majority of cases, those getting wet AMD will go blind in one or both eyes. As dry AMD gets worse, new blood vessels grow and they tend to be fragile, thereby leaking blood beneath the macula.

Ethos Bright Eyes CAPSULES are the best way to ensure you are getting the Lutein and Zeaxanthin you need.
Recommended Usage
You should take a capsule twice a day, with meals. One Ethos Bright Eyes Soft Gel Capsule contains: Zeaxanthin 5 mg & Lutein 10 mg. One month's supply.
BUY NOW