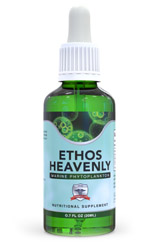 Ethos Liquid Marine Phytoplankton Mineral Drops
Ethos Natural Health introduce a brand-new superior product to enhance your immune system and general health - Ethos Heavenly Mineral Liquid Marine Phytoplankton.
Ethos Heavenly MP liquid is manufactured with 100% pure Nannochloropsis Gaditana of Marine Phytoplankton which is manufactured in Switzerland to enhance your immune system and general health maintenance or those with a medical condition.
Ethos Schweitz LLC have been selling Marine Phytoplankton in capsule and powder form in the natural supplement market over 21 years worldwide.
Ethos Marine Phytoplankton Liquid Super Nutrition has everything you need to help protect and improve your body, brain, immune system, skin. eyes, bones and the aging process.
Unique Selling Points:
Anti-Aging Supplement
Essential vitamins and minerals to boost energy
Nutrients to assist cell health and growth
Gluten free, vegan friendly
Completely natural
Vision Improvement
Memory Improvement
Increases your energy levels
Improves skin to combat anti-ageing and wrinkles
Combats anxiety and depression symptoms
Sport enhancement boost
Boosts your immune system and overall health
The marine phytoplankton natural nutritional food supplement is a source rich in nutrients, omega-3 plus essential multivitamins and minerals needed for a healthy mind, body and brain to exist in today's world.
The nutrients it contains will boost your health in so many ways. It is a natural antioxidant which will lower your levels of stress while increasing your ability to focus and improving the growth of healthy cells. In addition, this wonderful form of algae will boost your energy.
Recommended Daily Dosage:
Serving Size: 7 drops (0.4 ml)
Servings Per 20ml bottle with pipette: 70
Servings Per 50ml Bottle with pipette: 175
Servings Per 100ml Bottle with pipette; 350
Shake well before use add 7 drops per serving to water or juice 30 minutes before food.
Storage:
Store in a dry cool dark place away from children and do not freeze.
Ethos Marine Phytoplankton liquid drops is 100% organic superfood daily dietary supplement which has almost 70 nutritional properties to improve your general health and boost your immune system.
Caution:
Who Should Not Take Liquid Drops Marine Phytoplankton?
Anyone under the age of 18
Pregnant women
Women who are breastfeeding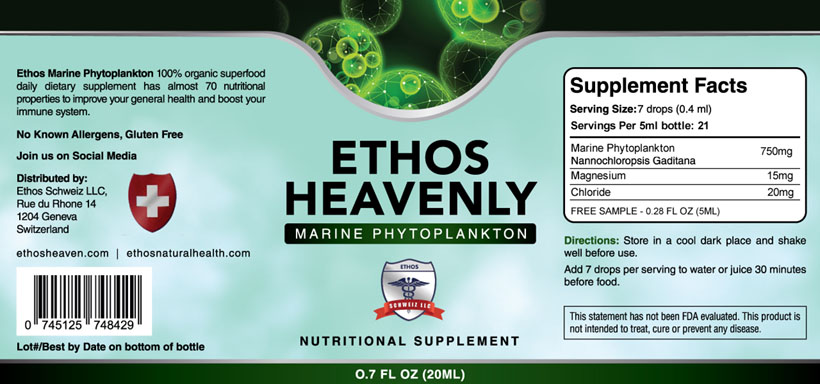 BUY NOW