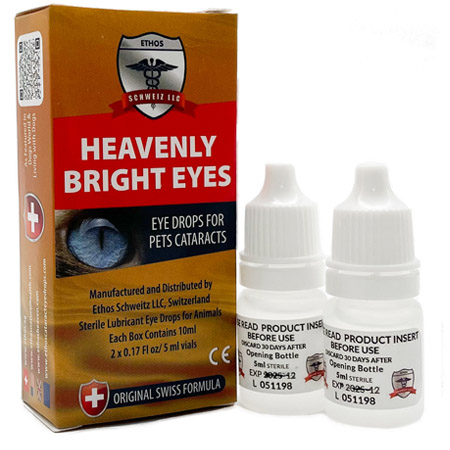 Bright Eyes NAC Cataract Eye Drops For Pets
As your pets age, eye health becomes a major concern. As they age they find it harder fighting off free radicals that cause oxidative stress. The lens of the eye acts like a shield to the retina, so the highly oxidised environment within the cells result from sunlight and oxygen causing oxidative punishment to vision. The destructive action of free radicals (they are oxidising agents) also damages or destroys enzymes that are needed to maintain cellular metabolism. And, since the blood flow decreases with age, the eye is further deprived of other essential nutrients for your pet's health.
Many Scientists and Vets recommend a good diet and diet supplements. Ethos Natural Health, Endymion Bright eyes for Pets is the most advanced formula on the market that offers protection from the free radicals because of its unique agent, and antioxidant. As you pet gets older, glycation occurs as a result of nonenzymatic binding of sugar to protein, which could eventually lead to tissue damage and cataracts
Bright eyes Pets drops contains 1% N-Acetyl-L-Carnosine, a naturally occurring antioxidant and anti-glycating agent that, when topically applied depending on severirty of damage, can penetrate and protect the lipid tissues of the eyes against sunlight, smoke and oxygen damage. The newly formulated Endymion Bright Eyes for pets will help to diminish free radical damage and the harmful effects of glycosylation associated with degenerative eye disease.
Ethos Bright Eyes Drops will dissolve cataracts without the need for any invasive cataracts surgery.
Also for treating the majority of all other eye conditions including Glaucoma, Age Related Macular Degeneration (AMD), Floaters and Dry Eye Syndrome.
Bright Eyes is 100% hypoallergenic and 100% Sterile.
Bright Eyes is free of animal ingredients and may be freely used by vegetarians.
Bright Eyes is safe and suitable for use on pets and other animals.
Bright Eyes Ingredients
Antioxidants: N-Acetyl-Carnosine (NAC) - 1.0%
Glycerin (lubricant) - 1.0%
Carboxymethylcellulose sodium (lubricant) - 0.3%
Vitamin A
Vitamin E
Buffered with borates and potassium bicarbonate and as a preservative.
Sterile water (ophthalmic grade isotonic solution, pH 6.3 to 6.5).
Purified benzyl alcohol.
Read the Dogs World Feature On Cataract Drops For Pets Here

Read the Healthy Dog Feature On Cataract Drops For Pets Here

Specification Sheet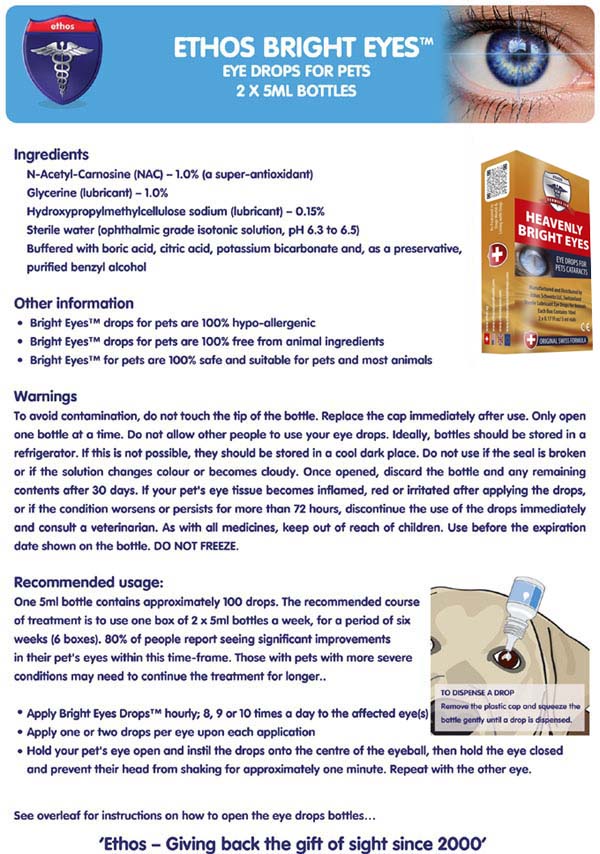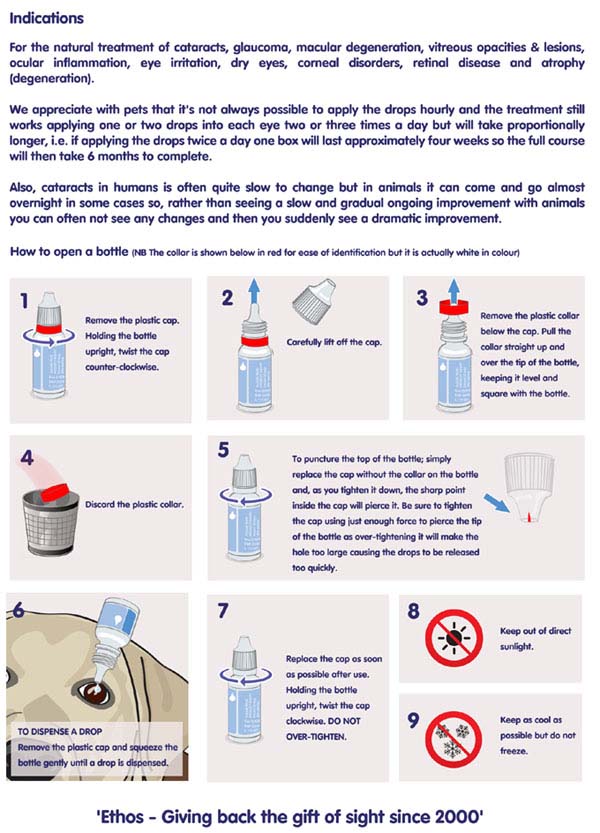 Customer Testimonials
Julianna de Souza, Lisbon
My daughter is having a pony which she is loving very much. All days she goes to see her and cleans the stable very often. She did not think that there were problems but one day when I was helping her get on, I looked into the ponies' eyes and they seemed a dull. After I called the vet, he said that her eyes were not good and he wanted to examine the pony in a few weeks to see if they get badder. I was upset because my daughter was crying so I began to read about eyes and things that can make them more healthy. I found Bright Eyes and was reading that they were easy to put in so we tried. We asked the vet last week what he thought and he said the eyes were better. My daughter is very happy.
Johnny Gunn, Chicago
I have a pedigree water dog that cost plenty of dollars. His health is very important because he is used for breeding to make me money. I saw that his eyes were becoming duller and wondered why. Doc said it was the start of cataracts. Surgery is costly in Chicago but if it had to be done then I would agree but I wanted to look at my options first. I found Bright Eyes and decided to give them a go. They seemed to have worked and my favorite dog is suddenly lively again. I have not ruled out surgery yet but Doc has said I can wait for now.
Micheal, Essex UK
My Dachshund, 6, got a cataract and I wasn't prepared to pay for the operation that was very expensive and I know friends that have done it and its failed so I was happy when I found bright eyes, defo the best option for my pup!
India, London UK
I was sceptical about these drops due to the high price, however I was pleasantly surprised at how efficiently they worked. Within days I noticed a large improvement in my dog and I would definitely recommend these to everyone with similar issues.
Sam, USA
When my American cocker spaniel was a pup the vet warned us about a few things that are common with this breed, one of which was cataract problems. Our dog did end up with one when she was about 3 years old but we found these products and we were very impressed, cleared up after one course of treatment. Even the vet was surprised how quick it worked.
Mike, Aurora new Zealand
Really glad that these dropped worked! Couldn't have thought of anything worse than putting my little dog trough anything else! We paid a lot of money for what we thought was the best vet near where we live but the operation failed! Meaning that my poor baby had to go through not only a painful operation but still had the same problem afterwards! The bright eyes drops however were great, we applied them 3 or 4 times every day and she wasn't bothered by them at all! I think it was about a month and a half later we started to notice that there was a visible improvement in her eyes and the colour was coming back. She seemed much more confident to as when she was at her worst she was struggling to walk because she couldn't see! My advice is don't go to the vets and just buy the drops!
Stam, Liverpool UK
Great product, people who advised me on what was best for my cat were great, I will be recommending to everyone!
Brian Gillis, Kettering, UK 29TH Jan 2016
Please regard our name as an endorsement of Bright Eyes, and pass on our recommendation of the product. If Teddy could talk, his comments would be obvious! Kind Regards, Brian Gillis.
Brenda.Vanbovene Dec 2015
It's with absolute pleasure that I put down a few words about my experience with your company Ethosheaven. On purchasing the eye drops for my little dog who had been diagnosed with cataracts in her eyes. Her one eye was worse than the other and I was told that she only had shadow vision in it. I researched more about cataracts in dogs eyes and found your web site and I first enquired from my vet as to whether I would be able to use these drops for my girl, and I was advised that It would be in order to do so.

I placed my order and I treated both eyes with the product for 2 and a half weeks and it was then that I noticed the redness of the one eye, but the other was perfect, from the warning instructions that come with the eye drops it advised that I should stop and seek help, which I did, and I was then told that the eye seemed to have developed glaucoma.. and from there I was given so many eye drops and Antibiotics but sadly it was suggested that I should have the eye removed. in all the time I was going through this experience I was in constant contact with Ethoshaven, and I found t hem to be absolutely encouraging and behind me all the way, it was a hard decision but the right one as it was discovered that my little girl of 10 years old had a tumor in her eye, I feel that if I had not taken these steps to try and prevent the cataract worsening, I would have lost my little girl to a burst tumour and she would have really suffered badly, I personally don't believe in fate, I believe that it was meant to be that I was so on hand with the eye and we found out the problem before we lost Bonny. Your company was so helpful and they offered to refund for the eye drops that I had not used. I cant say thank you enough for your help and your support.

Thank you to you Leigh and to Pete for all your help
Ray Metcalfe - Aurora, Canada
The Bright Eyes cataract drops for dogs are working very well for on our Jack Russell . She had really bad cataracts which completely covered her eyes. Now were slowly starting to see the colours in her eyes come back. Poppy starting to be her normal self chasing the other dog around the garden which she wasn't able to do before when her cataracts were really bad. Thankfully, finally she able to see much clearer now thanks to Ethos Bright Eyes. These drops have made a huge improvement to her life and vision. Bit pricey but great customer service.
Liliana munoz - Dallas, USA
My 12 year old Labrador is now able to run up and down steps which wasn't an option prior to using the Bright Eyes cataract drops. Thanks to these drops he is now able to see much clearer so we decided to start using them too and it seems to be working. Before using these Cataract drops my dog was unable to get out of the car or walk down the stairs without bumping into things and her eyes were very cloudy. But now her eyes are looking much darker and she is able to walk around much easier than before.
Carol James - Melbourne, Australia
I've been using Ethos eye drops on my elderly Black Russian Terrier for a month now and I can already tell a difference. Before when I used to walk him he used to bump into everything and felt his way around instead of walking normally. After keeping his hair from his eyes, protecting her vision from the sun I can now take him out for a walk his walking is back to normal and movement around the house is not so clumsy.
Bruno Vincenzo Rosselli - Caorle, Italy
I have been using the eye drops in my Ben my old Collie's eyes for nearly 5 months now and his eyes has improved massively. We suspected he was completely blinded from the cataracts due to Diabetes - I would say his vision in one eye thanks to Ethos eye drops has improved 50% - But one eye is still totally blind Hopefully in due course it may get some sight.
Vanita Triantou - Athens - Greece
My Cats eyes did look brand new! They used to be very cloudy but that is starting to disappear and was finally able to see her beautiful brown eyes come through and the blue circle also started to dissolve, But alias she was 23 years old and recently died from liver failure. I had just purchased another 3 boxes the day before she passed away - Ethosheaven was so kind to refund me when I returned the boxes of drops without any fees.
Douglas F Thorpe - USA
We have a 9 year old cavalier king Charles spaniel with failing eyesight in one eye due to cataracts, the other eye has had an ulcer on the cornea £1200.00 pounds at the vets to repair which failed and left the dog with a white disc in his eye My friend who keeps horses recommended " Bright Eyes " to me as she has had good results in the past On using the product (half way down the 1st bottle ) there is a marked improvement in the dogs eyesight, the white disc is nearly gone and the other eye is clearing up nicely, it is early days yet, but he is not bumping into trees any more.
Hannah Davis - UK
I am so thankful that i found Ethos Cataract Eye Drops for my horse. He started showing signs of not being well when we were out show jumping and i did some research online, after finding this product my horse could perform correctly and is perfectly happy with focusing on the jumps ahead and shows no signs of having any problem. I can highly recommend this product to anyone with an animal suffering from this condition
Linda - UK
I recently bought from Ethosheaven Bright Eyes Drops for Cataracts for Pets product from you. I used for drops for just one week on my old dog. She had zero sight at the start and one week later her head followed me around the room, proof that they had actually started working, truly amazing. Unfortunately my dog had to be pts as she was very old and unwell.