Welcome to Ethos Natural Health
Ethos Schweiz Ltd has been trading since 2000 providing quality and proven health care products. Our core products are for eye care for humans and pets including the bestselling Ethos Bright Eyes N-Acetyl-Carnosine eye drops brand that featured on UK national TV Richard & Judy TV trials, Dogs World and UK Daily Mail with incredible results. We also provide a range of other natural health supplements which we constantly review and update.
Ethos cataract, glaucoma and AMD eye drops protects your vision with the best eye care available to improve or restore your eyesight to normal over a period of time. Many other eyes drops suppliers and brands are now trying to cash in on the phenomenal success of our Ethos NAC Bright Eyes drops. If it does not say Ethos Endymion Bright Eyes on the Label & the CE mark, as pictured on this site, then it is NOT the same product. Purchasing these less expensive copy-cat products may lead you to very disappointing results!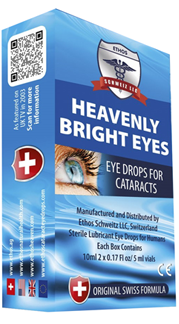 BRIGHT EYES FOR CATARACTS
Ethos Bright Eyes N-Acetyl-Carnosine Eye Drops for Cataracts have helped many thousands of people worldwide to improve vision, shrink, dissolve and prevent cataracts without the need for any invasive cataract surgery.
Cataracts and other common eye conditions can cause irreversible vision loss in a vulnerable ageing population if left untreated. Ethos NAC Bright Eyes enables you to treat yours or a loved one's eyes affordably in the comfort of your own home therefor avoiding growing waiting lists or expensive eye surgery.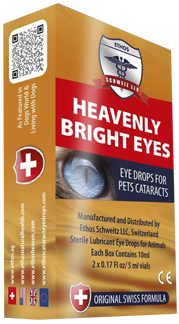 BRIGHT EYES FOR CATARACTS FOR PETS
Ethos Bright Eyes NAC (N-Acetyl-Carnosine) Eye Drops for Pets and Animals with Cataracts have the ability and strength to dissolve, treat and shrink cataracts to improve vision and treat other pet degenerative eye diseases.
It is advisable to maintain good eye health in your pet to avoid serious eye disease; this may occur from age, genetics and diabetes or eye injury. The age, breed and other health conditions will play a factor on how well Ethos eye drops work. When using ethos bright eyes drops for pets maintaining a healthy diet will help any eye disease, boost energy and good health in general.
Our Best Sellers