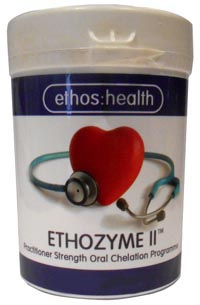 Enzymes Ethozyme Serrapeptase II
Ethozyme is a natural enzyme supplement for health consisting of enzymes and herbal elements formulated to provide a synergist, all-purpose formula for health and wellbeing. It is beneficial for many different health conditions; it is especially good for keeping your organs healthy, combating cardio vascular disease, unclogging arteries, thrombosis, the risk of stroke, and combating a wide range of serious physical ailments. Ethozyme is a natural anti inflammatory and a simple course of treatment removes arterial plaque build-up.
Serrapeptase digests non-living tissue, blood clots, cysts, and arterial plaque and inflammation in all forms. The late German physician, Dr. Hans Nieper, used Serrapeptase to treat arterial blockage in his coronary patients. Serrapeptase protects against stroke and is reportedly more effective and quicker than EDTA Chelation treatments in removing arterial plaque. He also reports that Serrapeptase dissolves blood clots and causes varicose veins to shrink or diminish. Dr. Nieper told of a woman scheduled for hand amputation and a man scheduled for bypass surgery who both recovered quickly without surgery after treatment with Serrapeptase.
Ethozyme II™ is an all natural enzyme health supplement which has been specifically and scientifically formulated to provide a synergist, all-purpose formula to greatly enhance health & wellbeing and fight disease. It is very beneficial for many different health conditions, but is especially good at combatting cardio vascular disease, atherosclerois, plaque formation in the arteries, and thrombosis. This, in turn, greatly reduces the risk of stroke which is the world's commonest cause of premature death. Ethos Ethozyme helps clean up the transportation of fluid around the body, it goes around like a mini vacuum eating up and digesting the dead proteins that have not been broken down during digestion. This in turn greatly reduces the risk of stroke or heart attack which are the worlds commonest cause of premature death.
These dead proteins lead to inflammation, If you have pain, low energy, heartburn, immune system issues, benign tissue growths, bowel trouble, you well may need Ethozyme as your pancreas may well have become tired and worn out due to your diet or age.
Ethos Natural Health Ethozyme contains ingredients that may dissolve blood clots. This is normally beneficial, but in certain conditions may be harmful.
This product should not be taken if you suffer from:
- Any blood disorder that affects the ability of the blood to clot e.g. Haemophilia
- A stroke which has resulted in intercranial bleeding in the last 6 months
- Haemorroids (piles)
- Recent surgery or trauma
Dosage
Take 2-4 Capsules up to 4 times a day on an empty stomach, ideally 1 hour before a meal.
Customer Testimonials
Cloe - Bulgaria
After years of smoking my chest started to get really tight and uncomfortable after a short walk or minimal exercise. I changed my diet and stopped smoking and cut down on drinking for my health but I was still struggling with my chest. Veggie capsules have really helped with my breathing and lungs which have helped me exercise more and get healthier. Ethos scheiz Veggie capsules are a great general health booster, I've been using them for years and I plan to continue using them!
Cory - Arlesey, UK
Bright eyes veggie capsules are definitely NOT the cheapest on the market, I've looked everywhere and can't find any as cheap good ones that work as bulk buying them from bright eyes as I made an offer on multi buy purchase and they gladly helped and shipped the next day.
Dave - Wilshire UK
My doctor told me that I needed to improve my blood circulation as my arteries were at risk of not getting enough blood and become strained which could mean a furry blocked valves which has caused a minor heart attack in the past. My aunt found veggie capsules online and after 6 months of using them the doctor said my blood flow has increased and I feel a lot better and active.
Lauren - Oklahoma, USA
Veggie capsules are a brilliant product, I give them to my little girl who was born with quite a few respiratory problems and in the year she has been taking them she's become so much more stronger and confident.
Natasha - New Zealand
Love that I've finally found a vegan product on the market!
Delroy - UK
As soon as I saw that the veggie capsules bright eyes sells are all natural and a super enzyme health supplement I had to try them. I've not been using them for too long but first impressions are good! Great reviews so I am hopeful for the future and my health longativaity of life.