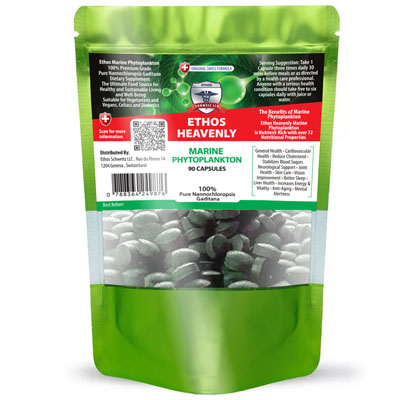 Ethos Marine Phytoplankton Super Nutrition
Ethos Natural Health Marine Phytoplanton is 100% Pure Organic
This incredible human nutrition is packed with everything you need for the 21st century to build healthy new cells and to give the body virtually all the raw materials it needs in one source.
What is Ethos Marine Phytoplanton?
Marine Phytoplanton are microscopic, single-celled, organisms which live in our oceans, it contains 410 times more energy than any other living organic matter and thus it is a very potent and complete super food for our bodies. It gives the brain and bodies everything it requires to develop and grow new cells, like serotonin and dopamine.
Marine Phytoplanton is better than omega -3-6-& 9 and is more easily absorbed than any fish oil supplements, because it works at the deepest level of the cell, it seems to work on a variety of diseases and imbalances including chronic illnesses.
What are the health benefits of Marine Phytoplanton?
- The immune system is boosted
- Helps with depression & Insomnia
- Speedy recovery from diseases and operations
- Improves your memory
- Boosts your energy
- Prevents and halts migraines
- Stress relief
- The body's PH balances itself
- Travel sickness
- Increases recovery from Alcohol and Drug abuse
Marine phytoplankton by Ethos Natural Health contains over 67 nutritional properties, including all of the amino acids, essential fats, vitamins, key minerals and trace elements, rare anti-oxidants, phospholipids, electrolytes, nucleic acids, enzymes and co-enzymes.
Our body is in constant attack from free radicals and toxins due to the kind diet we have, typically rich in hydrogenated fat, refined carbohydrates and sugar, refined salt, artificial preservatives, white flour and salt. These cause an imbalance in our body leading to inflammation and culminate in many forms of diseases. So someone born healthy may end up with degenerative diseases before the end of his time especially if some of the complex elements he was born with are missing from the normal diet.
Help your body to fight the effects of free radicals and toxins by making it healthy. Do not wait for the symptoms to appear. Before you know it, your body may not be getting the right nutrients, in sufficient quantities.


Ethosheaven Marine Phytoplankton for Optimum Health
I am feeling depressed? WHY?
Anxiety & Depression is an important worldwide public health problem due to that its both linked to high periods of prevalence and the significant disability that it causes. Recent research by the World Health Organization (WHO) data, depression accounts for close to 6% of the worldwide total burden of the illness or disease, and at some point in their lives, 11% to 24% of women and 6% to 13% of men will become clinically depressed. Without treatment and a stable diet , it could have the tendency to assume a chronic course, to recur over many periods of your life, if your down ,depressed, feeling low or have some of the following symptoms this may sound familiar:
- Sadness, unhappiness, feeling low, why is do I feel like this??
- Small matters and conversations make me irritable and anxious
- Normal life seems like a drag. Can do what you use to do.
- Sex, lower than normal, or you're your sex drive has disappeared.
- Sleeping in, then suffer from insomnia for days after.
- Eat one day and not the next
- Can't keep still in an enclosed area
- Outbursts of anger over the slightest thing
- Slowed thinking, Fast thinking, feels too much to handle sometimes
- Decreased concentration and loss of short term memory
- Your energy levels decreased dramatically
- Too many thoughts about the past and why I was and still feel useless
- Trouble thinking, concentrating, making decisions and remembering things
- Frequent thoughts, Shall I commit suicide. But don't want to leave those behind
- Cry over any soaps or documentary what you think your life relates too??
- Unexplained aches and pains, IBS, bad skin and nails.
Depression & Anxiety remains an illness in which existing therapy and treatments have limited efficacy. One theory claims that the significant increase of saturated fat and dietary intake with an increase in the ratio of omega-6 to omega-3 fatty acids may explain the high prevalence of this condition worldwide. If true, this theory has substantial implications for both the prevention and treatment of depression through people's diets.
Marine Phytoplankton is the essential nutrient now established to enhance life quality and have a lower the risk from premature death from heart attacks, strokes and high blood pressure, in depressed patients. While taking ethos Marine Phytoplankton over the past decade, in which a number of trials have been conducted, many of which support its efficacy in the treatment of childhood and adult depression, among other beneficial effects on the body & brain function.
What is the correct intake of Ethosheaven Marine Phytoplankton so that my brain benefits?
Current studies don't indicate a daily intake recommendation, but the purity of Marine Phytoplankton within the preparation appears to be influential. Unfortunately, the standard diet is unlikely to contribute more than 50-100 mg/day of Marine Phytoplankton, and the practicality of making dietary recommendations to eat healthy is also as a primary source of good health.
Customer Testimonials
Scott, Liverpool UK
I take this everyday just as a booster, helps my mood and my energy in my busy lifestyle.
Lauren, Stonehaven UK
My family history is scattered with strokes and high blood pressure so when I came across Marine Phytoplankton Super Nutrition I was really interested in it for keeping control of everything and lowers my chances of following in the same steps. I looked on the internet but the ethos heaven was the cheapest brand that I found, especially if you bulk buy it.
Joe Trinswell US
I've been taking Marine Phytoplankton Super Nutrition for about a year now and people always joke about how quick I heal, cuts and bruises disappear after no more than a week whereas my friends can last for weeks, even months. So I know its working!
Ellie
Whenever my body just needs an extra boost I use marine phytoplankton, makes my bod feel stronger and ready for anything.
Amanda, UK
Marine Phytoplankton Super Nutrition is great for my body and also whoever I was talking to for help on the team was really great. Guided me along the whole process and really knew what they were talking about.
Lesley, Florence Italy
I was told to take Marine Phytoplankton Super Nutrition over winter when there is lots of colds and flu about to help your body repair itself quickly and it seems to have worked I took it all through winter and I'm normally ill for weeks at a time, this year I was ill for maximum a week.
Burgen, Germany
I was told to take Marine Phytoplankton Super Nutrition over winter when there is lots of colds and flu about to help your body repair itself quickly and it seems to have worked I took it all through winter and I'm normally ill for weeks at a time, this year I was ill for maximum a week.
Julie Hammond - Liverpool
Ethos Health Marine Phytoplanton is a WONDERFUL product!! If you need a boost in your energy levels, this is it! When I take it ,I feel the results in a very short period of time. A friend of mine had severe cramps in his legs (poor circulation). When I gave him Phytoplanton , his pain stopped almost instantly. Another friend's daughter had a fever and was throwing up.another friend has arthritis. She says that her pain and movement is not as bad since taking Ethos Marine Phytoplanton as well as her stamina increased. I have product a little pricey. But, it is well worth it.
Mick Mcteague - Dublin
Against my better judgement I ordered Marine Phytoplanton from Ethos .I've been taking it now for about five days, and I have to say the differences I feel are subtle, but well worth the cost of the product. So far, the quality of my sleep has improved- I sleep deeply, and I get up a little earlier than I normally have been- and feel great when I get up! My energy is overall improved throughout the day I don't get that rundown feeling. We'll see what else comes after prolonged use! So far, I'm happy!
Lucy Daniells - Utah, USA
We just started taking Marine Phytoplanton and already are seeing some amazing things happening. My eldest daughter, who has all the food allergies, is for the first time having normal bowel movements. My son slept through the night for the first time since I can remember. And as for me well it seems as though my body has decided to get rid of a whole lot of waste and toxic build up because my body has gone into a cleanse mode and I feel wonderful. Have had the best sleep of my life and can't say enough about Marine Phytoplanton. I have been on the phone non-stop to as many people as I know, and so far everyone I have talked to can't wait to get on the product.
Raymond Keith - Dalyan, Turkey
My energy levels have definitely changed- I went through a period of months after a major operation during which I felt exhausted at the end of each day. I did not feel rested after sleep.. I now feel healthy, mentally and physically, and have energy to spare at the end busy working day. One very interesting side effect is that I am now dreaming. I'm not sure what my body was missing but Marine Phytoplanton seems like when I was 30years old.