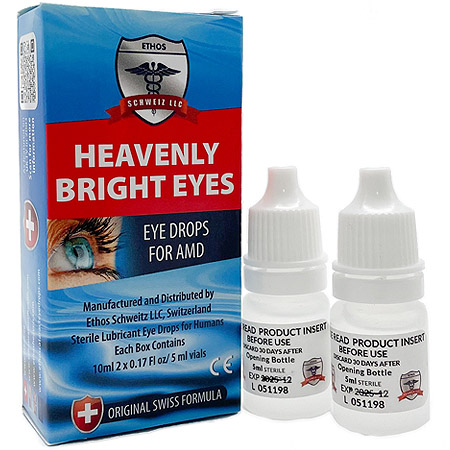 Bright Eyes Eye Drops for AMD
Ethos Bright eyes AMD Drops, N-Acetyl-Carnosine (NAC) for short. Is one of the world's scientifically proven products proved to repair damage at the cellular level and rejuvenate cells in the eye?
A good diet and supplementation with Zeaxanthin and lutein combined with NAC, has been researched and documented that it helps to restore the macular pigment density in the eyes which protects the macular from damage. Some people say that once this has occurred that's it is irreversible.
Using a course of Ethos AMD drops Bright Eyes can deliver the NAC directly into the eye where it can work at the cellular level and repair the damage which may have been caused to the macular.
Bright Eyes Ingredients
- Antioxidants: N-Acetyl-Carnosine (NAC) - 1.0%
- Glycerin (lubricant) - 1.0%
- Hydroxypropylmethylcellulose Sodium (lubricant) - 0.15%
- Sterile Water (ophthalmic grade isotonic solution, pH 6.3 to 6.5)
- Buffered with Boric Acid, Citric Acid and Potassium Bicarbonate
- And, as a preservative, Purified Benzyl Alcohol
Bright Eyes drops are safe to use alongside any other prescribed medication; just leave at least a thirty-minute interval between applying different drops.
Recommended Usage
The recommended course of treatment is to use one box containing 2 x 5ml bottles a week, for a period of six weeks and 80% of patients report seeing significant improvements within this time frame. Those with more severe conditions may need to continue their treatment for longer.
- Apply Bright Eyes drops 5, 6 or 7 times per day to the affected eye(s)
- Only one drop per eye is needed per eye for each application
- One of the easiest ways to apply them is to lie down or lean you head well back
- Asking a friend, relative or partner to apply them for you helps avoid any wastage
- Pull the lower eyelid down and gently squeeze the bottle until a drop comes out
- Instil the drop onto the centre of the eyeball and you will feel when it goes in
- Press the tear duct for 2 mins after applying the drop to avoid flushing out
- Leave at least a 30 minute interval between applying different types of eye drops


Customer Testimonials
Claire - Isle of White
I've had problems with my dry and tired eye for years because I work in an office and I am looking at a computer all day. A friend suggested bright eye drops for AMD because it really started to bother me. I use 2 drops in the morning and 2 before bed and it's really helped my eyes.
Harry Huff - Gibraltar
I have only been using this product as directed for three weeks and I notice a big improvement in my vision. So I'm going to order AMD DROPS again!
Sarah - Dublin Ireland
I started using bright eyes drop for AMD about 3 or 4 weeks ago now and I can't already see an improvement in my eyes. Thank you!!
Jane - New Zealand
My elder brother suffers from AMD and it was really starting to affect his sight so I found the bright eyes drops for AMD. He takes them 4 times a day and he says he can really see a difference. He seems much happier in himself so I think they must be working as before it was really starting to get him down.
Caroline - Utah, USA
It's taken some time but (over a month) on my drops for AMD but I can finally see some changes. Pictures and texts that were blurry before are starting to come into focus again.
Raj - UK
Noticed a difference in weeks, bright eyedrops for AMD is a great product.
James - France
I was told that I have AMD by my doctor which is a breakdown of my eyes macula. He suggested some eye drops but I did my research and found the ethos natural health brand which was similar to what my doctor had subscribed. Its worked wonders massive improvement in my eyesight.
Amy - London UK
I hadn't realised how bad my eyes had gotten and I hadn't been for an eye test in about 2 years. Since they worsened so slowly I didn't noticed really until my eye sight had become quite poor. My optician did an optical coherence tomography and found that I had AMD. Since it was quite developed he said that the damage done may not be reversible and my eyes may remain damaged forever, he offered me an operation and he said that this was the best option. I have always been very scared of needles, hospitals or operations so I wanted to avoid this at all costs although of course I wanted to save my eye sight. I had man sleepless nights trying to decide what to do and trying to decide quickly when my friend found the bright eyes website on the internet. She drew my attention particularly to the eye drops for AMD. Of course I jumped at the chance to buy these as it would mean avoiding an operation. They were delivered promptly and I immediately started applying the 7 times a day. I found that after just 4 weeks my eyes had started to improve, of course I realise that it is nearly impossible to regain full sight, but I can see a lot clearer. I can read again with normal sized texts and I don't have to squint to focus anymore. I am very interested to see the results of them long-term.
Alan Howard - UK
Based on information I'd been reading on Ethos Natural Health website and forums/blogs I purchased this product for my mother whose sight was rapidly deteriorating because of Amd and one Cataract in both eyes requiring surgery. After using the maximum dosage of 7 drops per day for 3 weeks she's now again able to read (with glasses) normal-sized print. Needless to say, she's is very happy as it appears she may be able to postpone or even avoid surgery This is a pretty amazing product.
Stevie Brooker - USA
I've been using Ethos AMD drops for over a month now, just as directed in the instructions, and have noticed no notable improvement. But the vision has not worsened either so the drops may be helping some.